Top 10 Celebrity Secrets to get Perfect Eye Makeup Look
It's no secret that many celebrities have one thing in common: amazing eye makeup looks. When it comes to eye makeup, everyone wants to achieve the amazingly flawless, strategically applied eye makeup looks worn by celebrities. We've all been culturally obsessed with the beauty routines (and beauty secrets!) of such gorgeous and famous women. Celebrities have been long known for their flawless, camera-worthy red-carpet primping routines. Have you ever wondered how Angelina Jolie gets her perfect winged eyeliner cat-eye look, or how Mila Kunis achieves her sexy, sultry smoky eye look? Look no further - we have compiled a list of top 10 celebrity secrets to achieving the perfect eye makeup look!
Here is a list of top 10 secrets to getting the perfect celebrity-inspired eye makeup looks.
1) Reduce Eye Puffiness
Before you can start working on your eye makeup routine, you want to make sure your eyes are prepped and ready for the process. No one enjoys having puffy, tired looking eyes. To combat the dreaded puffy-eyed look, Lauren Conrad suggests using potatoes. You read that correctly - potatoes! Who would've thought that a celebrity's beauty routine would include something as affordable that?! To reduce puffiness, simply slice up a few potatoes follow by soaking them in water for a couple of moments. Then, place the potato slices over your eyelids and let them rest there for 15 minutes. This works like a charm!

img src: modices.com
2) Avoid Mascara Mistakes
This secret tip is taken from Emma Watson's eye makeup routine and was taught to her by makeup artist Linda Cantello. If you accidentally make an error with your mascara, simply dip a cotton ball or some tissue paper into some liquid foundation or concealer to remove any excess mascara and conceal at the same time.
img src: modices.com
3) Flawlessly Apply a Cat Eye
In order to successfully achieve a flawless cat eye like a celebrity (ahem - Angelina Jolie!), start working from the center of your eye, rather than the outer or inner corners. Follow by tracing your liner in a backward direction, commencing at the inner corner and then working your way towards the middle. It will give you an exact idea of your eye shape and will allow you to outline properly and define your eye while avoiding the dreaded panda effect.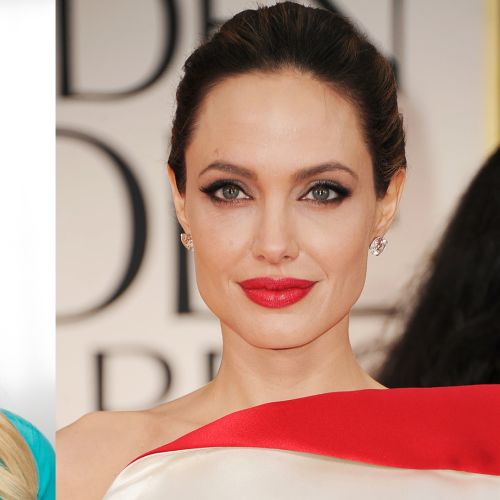 img src: vogue.com
4) Achieve the Perfect Smokey Eye
In order to achieve the celebrity-worthy perfect smokey eye look, the first step to learning is that "smokey" is a technique, not a color. The single most important thing is to know how to blend properly. You're going to need a good-quality fat, fluffy brush that will be able to bring all of your eyeshadow colors together, while also getting into all of the nooks and crannies of your eye. When blending, aim to blend in a circular motion. Also, make sure to clean the brush before you have transitioned to a different color - this will allow you to have a line-free seamless gradient on your eyelids. Also, when creating a smokey eye look, make sure to build the color from light to dark. First, start by highlighting, then move to a medium-colored eye shadow. Finally, begin working on your darker shade, focusing most on the powder in your crease.
Another prominent smokey eye tip is to make sure that you properly smudge the liner or eyeshadow underneath your eyes. This will soften your look.
5) Resurrect a Bottle of Dry Mascara
Here's one thing we all have in common - we hate dry mascara! Mascara is the fastest makeup product to lose its shelf life, and at times, there's nothing more frustrating than a bottle of mascara that has turned into a hardened tar. However, Nicole Bryl, a celebrity makeup artist who has worked with celebrities such as Brooke Shields and Molly Sims has a solution to this frustrating problem. The tip? Just add a few drops of water! She recommends adding a few drops of water to your mascara tube, then inserting the mascara wand and pump, pumping the wand in and out over the sink. The water will add needed moisture to any dry mascara left in the tube, and each pump will give you with a few more mascara uses. Can't get to a bathroom? Simply add a few eye drops!
img src: nymag.com
6) Use a Spoon if you don't have Access to an Eyelash Curler
Miranda Kerr recommends using a medium-sized spoon to curl your eyelashes if you don't have the proper access to an eyelash curler. This works almost just as well!
img src: cosmopolitan.com
7) Open up your Eyes with a Cream-Based Eye Pencil
If you want brighter eyes that look more awake, Candice Swanepoel recommends using a nude colored cream eye-pencil or eyeliner on the bottom lids of your eye, as well as in the inner corners. Boom - instant brightness!
img src: benefitcosmetics.com
8) Layer your Eyeliner
Kim Kardashian's makeup artist Mario Dedivanovic recommends layering on different types of eyeliner for a look that stands out and makes your eyes pop. He starts off by first smudging on a dark brown colored pencil liner, then applies a black-colored kohl eyeliner before finishing off the look with one or two layers of liquid eyeliner.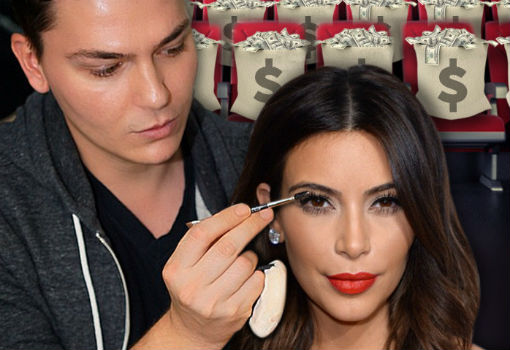 img src: beautyandblush.com
9) Extend the Life of your Eyeliner
Celebrity makeup artist Zdunowski-Roeder has an excellent tip to extend the life of your eyeliner, and keep it from smudging. The secret? Simply apply the same colored eyeshadow right over the eyeliner - this will keep your eye makeup look in place for a much longer period of time.
img src: cliqueimg.com
10) Skip the Shimmery Eye Shadow for an All Day Look
Celebrity makeup artist Stella Kae, who has worked for stars like Toni Braxton and Alyssa Milano recommends skipping the shimmery eye shadow altogether and sticking to a matte eyeshadow if you want your eye makeup to look last you all day long.
img src: lifenfashion.com
So there you have it! These top 10 celebrity eye makeup tips will keep your eye makeup looking as flawless and red-carpet worthy as theirs!
More Pro Tips & Looks:
Get The Look: Lena Dunham's Particularly Sexy Cat Eyeliner
Did Kate Middleton Eye Makeup Look With Beth Bender Beauty's Cat Eyeliner Stencil Kit
Kristen Bell's Smoldering Smokey Eye Look
How To Create The Invisible Eyeliner Look