Get a Sexy Smokey Eye Look in Minutes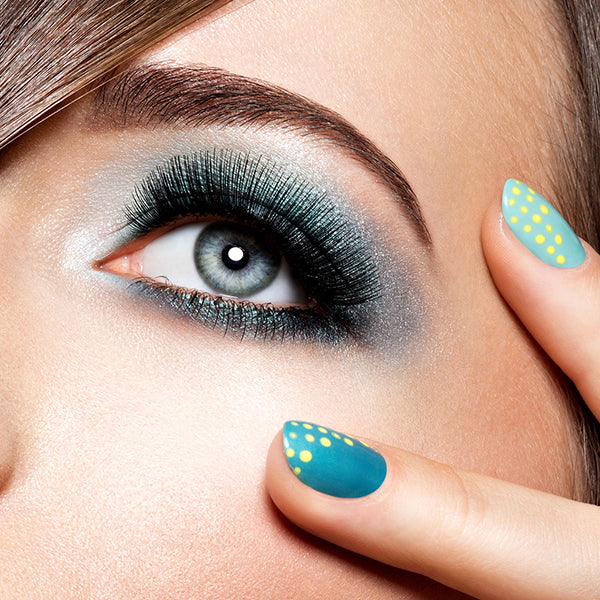 Thanks to all of the popularity the smokey eye continues to get we have an arsenal of resources available for creating the look. From the classic, smokey eye look in darker hues, to the trendier smokey eye looks in metallics. There are many different ways to create a perfect looking smokey eye and although it may look like it takes a great deal of time to accomplish, it's actually a lot simpler than it seems. A sexy smokey eye look can be done with or without liner and with almost any color you want.
The three colors we'll be focusing on will be a classic black, dark brown and a purple smokey eye. For all of the smokey eye tutorials, the key tip to remember is blending. Knowing how to blend your shadows brings the entire eye makeup look together and can reflect the level of skill in which someone has for applying color. Not only does blending create a seamless finish, it also helps to soften darker shadows so they appear less harsh. Keep this tip in mind when creating any type of smokey eye look and you'll always be happy with the end result.
1. For this first smokey eye look in black, you won't need to use a pencil liner to complete it. The colors you'll need are a matte black shadow, a dark gray or slate, a light gray and a highlighting color or base shade for your brow bone and inner corner of eyes. The brushes you'll need are an angled or dome shaped eyeliner brush, a blending brush and a large, fluffy blending brush. Using your angled or dome shaped eyeliner brush, apply the matte black where you would usually put your liner (along the eyelid and underneath the lashline). Make sure to be generous with this color and deposit enough since it will be the basis of your look. Once you are happy with the intensity, begin to blend it out and up into the eyelid with your blending brush.
Next, dip into your slate or dark gray shadow and apply it so that it overlaps slightly with the black shadow and blend well. With your light gray shadow do the same and apply color so that it overlaps slightly with the dark gray, but instead extend the color outwards as you blend to create the the smokey eye shape. Take your large fluffy blending brush and soften any harsh lines before moving onto your base shade for the brow bone. You can use your index or middle finger to pat the base color directly to the brow area before blending. Use the blending brush to apply the same base shade to the inner crease but make sure to wipe it clean of any dark color before dipping into your base.
Finish by cleaning up any color that may have fallen with either a makeup remover stick or a Q-tip and makeup remover. For a flawless finish apply concealer under the eyes and along the outer eye color. This will give your eyes a more polished look and make the color really stand out. Curl the lashes and add a coat of black mascara.
2. For your brown smokey eye look, we will be combining some of the techniques from the first look with some new tips and tricks. A great quad that is perfect for creating a gorgeous smokey eye in browns is the Backstage Beauty Smokey Eye Quad in Super Natural ($39.99, bethbenderbeauty.com). Using the dark brown metallic shadow as your 'liner' for this look, apply to both the bottom lashline and top, extending color outwards past your eye just a bit. Use the same technique as the last look above, overlapping the color and going lighter as you blend at the point where both shades overlap to create a seamless look.
Next using the softer brown shadow, apply above the previous color and blend into the crease. Dip into the medium/lighter shade of brown and blend just above your crease and outwards, extending just a touch past your eye. Use the highlighting color for accentuating your brow bone and inner corner. Make sure to wipe your blending brush first before adding your base shade so there are no traces of any dark color.
To finish this smokey eye look we are going to create a little more drama by adding a pencil liner in black right along the lash line as close as you can get. You can smudge the liner using a flat eyeliner brush or smudge brush for a more smoldering effect. Finish with a rich brown or black mascara and follow the same steps above in #1 for applying concealer to give your eyes a polished, pro look.
3. Our personal favorite, the purple smokey eye can be done using either a brown or black shadow combined with the purple, but for the purposes of this tutorial we will be using brown. Sticking with the Backstage Beauty Quad but for this look we'll switch to Where There's Smoke. Using your platinum silver shadow apply to the eyelid only, next using your plum metallic shadow apply this to the crease using your blender brush. Focus the color from the outer eye to the middle of crease softening as you move your blender brush towards the inner crease. The next color you'll want to add is the dark brown.
Beginning at the outer eye, place the tip of your blender brush in the crease and move it back and forth using the wind-shield wiper effect. The outer eye is where you'll want to deposit more of the dark brown color. Add a wash of the platinum shadow right above your plum color and blend the two together. Highlight the browbone using the lightest color and blend to remove any hard lines. You can use either the platinum or base shadow to enhance the inner corner of eyes. This smokey eye look calls for a strong liner. Using your dome shaped eyeliner brush and a black gel liner, apply color tightly along the natural shape of your lid. This step can also be done using a black liquid liner. For the best results always finish with a concealer under the eyes and set with a translucent powder.
Here are a few extra tips for mastering your smokey eye looks:
1. If you're going to add eyeliner to the lashline, make sure you wait until after you've finished applying your eye color since you may have some fall out. You can also add a layer of translucent powder underneath the eyes while doing your color to catch any color that does fall. Once you're eyes are done, simply sweep the powder away using a fluffy shadow brush or medium size powder brush.
2. Clean up any eye shadow outside of your eye makeup look with a Q-tip and eye makeup remover or eye cream.
3. Before adding mascara, use a mascara shield/guard and place it behind your lashes to prevent any color from transferring onto your skin or eye area and spoiling your perfect smokey eye look.