Haven't Heard of Tightlining Your Eyes? Well You should.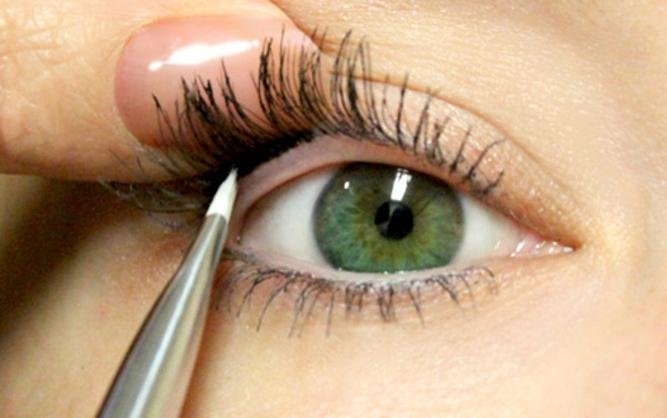 Do any of you ever wonder exactly what all the makeup artists mean when they tell you to "Tightlining" your eyes?  Do you have to stop and look up the word only to find it is not in Webster's Dictionary but does exist when you google it?  It does sound like something you would reference to walking a tight rope or a some kind of sport, am I right?! But actually it is a makeup reference when  tightlining your eyes to create bigger looking eyes. Who knew… However, this tightlining technique really comes in handy quite often. Especially when you spend 20 minutes eyelining your eyes to "open" them only to discover that they look really small 
I know you did everything right when lining your eyes since you're a die hard beauty addict.  You kept a steady hand and lightly applied your eyeliner, am I correct, but when you took a closer look you gasped, got frustrated and then threw your eyeliner pencil in the air or perhaps even the garbage?  Another eyeliner tragedy? Not on our watch beauties! This technique called tight-lining is actually not that difficult once you understand that you are applying the liner in between or as close to the lashline as possible. Almost skimming your waterline (the rim where your eyelid meets with your eye). When you're finished not only will your eyes look bigger, there will be little trace of makeup.  Phew!  No biggie.  So, let's dive in head first…
First you will need to get the right makeup in order get tightlining your eyes done correctly. If prefer to keep your eyeliner from disappearing after you have applied it then we suggest using a waterproof eyeliner pencil.  We are big fans of Laura Mercier's Longwear Eye Pencil in Black. It's a cream base long wearing eyeliner that goes on smoothly, accurately, is smudge and transfer resistant. LOVE!  Most importantly beauties, start with a freshly sharpened and pointy eyeliner pencil. 
Time to line your top lashes so make sure you raise your chin up when looking into your mirror. Then place your index finger that you are not using to hold your eyeliner pencil to lift up your outer corner of your eye. Holding your eyeliner pencil vertically start tracing it back and forth under and in between your eyelashes. You might want to go over it a few times and also make sure to stop before you reach the inner corners of each eye. Otherwise your eyes might look smaller and have the opposite effect.
The roots of your top lashes need to be darkened. Press one finger on the outer corner of your eye while gently pulling your top lid taut. Place the tip of your eyeliner into your eyelashes at the corner of your eye. Wiggle it back and forth as you move your eyeliner pencil inward. Make sure to take your time and don't be scared to really push the eyeliner tip into your lashes. Repeat on the other eye.
Bottom eyelashes are next. Just below your inner rim of your eye, (not at the waterline), apply your eyeliner pencil using light dashes right at the base of your lashline If you prefer a more intense color at the root you might want to use a creamy gel liner in a pot. Beth Bender Beauty has great gel eyeliners. A great alternative for dense, rich looking eyelashes since using a gel liner creates an inky rich color.
Clean up any unwanted makeup. Sometimes makeup will transfer onto your upper and bottom lids when tightlining your eyes. An easy fix ladies. Take a Precision Q-Tip, (we always have them at hand), and dip it in a little eye makeup remover.  Then run it along your upper lid and then under your bottom lid to clean up any makeup mess.  You want your eyes to look sharp and clean.
Use an eyelash curler and curl your upper eyelashes. This will intensify your newly created "wide eyed and open" look that you just learned how to do. (Be careful when curling your eyelashes not to press too hard into your waterline.  This might remove some of your eyeliner that you just applied). Make sure to wipe your eyelash curler before curling your other eye. Why not add some of your favorite lengthening mascara in black to make your eyes look even bigger!

Now that you've mastered the art of tightlining, go out and show off your big beautiful eyes with confidence!
*images courtesy of taylor andrews academy of hair design