How to Put on Eyeliner for a Graphic Winged Effect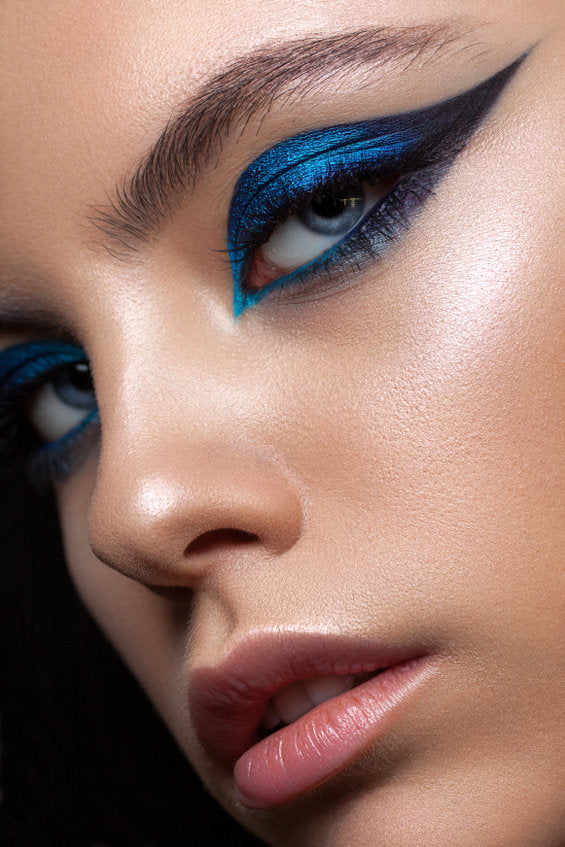 Are you ready for all of the bright makeup colors for eyes coming this summer? We sure are and as far as we can tell it looks like it's going to be a hot trend especially for eyeliner. The color blue in all different shades was a favorite during fashion week and for so many of us this is a color we are happy to see more of. Whether it be a wash of color across the eyelids or a bright teal or sapphire liner as seen here, it's an eye makeup trend you'll be seeing a lot of for the next few months.  
At David Koma just a subtle hint of blue eyeliner applied to the outer corner of the eyes was all that was needed to make this beauty statement go a long way. The ever popular winged eyeliner look was created with a swoop of graphic sapphire liner applied to the outer corners of the eyes, but if you look closely it's almost in the shape of a triangle.
To create this eyeliner look on yourself you'll need a good eyeliner brush. A taklon eyeliner brush will work best since the hairs are synthetic and they tend to keep their shape. They are also good to use with creams and gel liners. We like to use an angled eyeliner brush when we're making straight lines like this but it's entirely up to you and what feels most comfortable.

Pro Tip: Use a light or white eye pencil first to create a sketch of how your "wings" will look. This way, you can easily make corrections by erasing with a Q-Tip. The line should start 3/4 of the way out and extend toward the outer corner of your eye. You'll trace over it with your gel liner, or liquid liner afterwards. If you use a liner with a felt tip applicator you'll have an even easier time getting the perfect thickness. 

Depending on your skin tone start first by applying a pale pink, or warm peach shimmer shadow in a cream or powder to the eyelid. Do this before adding your liner. Medium to dark complexions would choose the warm peach. 

A gel liner will give you the finish seen here. If your lids tend to be shiny or you're concerned that it might smudge you can set your eyelids with a primer first and finish the look by going over your liner with a shadow in the same color, or a translucent powder once you're done. To set using a translucent powder take either a small eye shadow brush or blender brush, dip into your powder, tap off excees, and sweep over the colored liner. 

To get the look check out our Classic Angled Eyeliner Brush or Angled Eyeliner Brush to apply your gel eyeliner, and our Cream Eyeshadow Brush for applying the cream shadow to the lid.