5 Hot Date Night Makeup Looks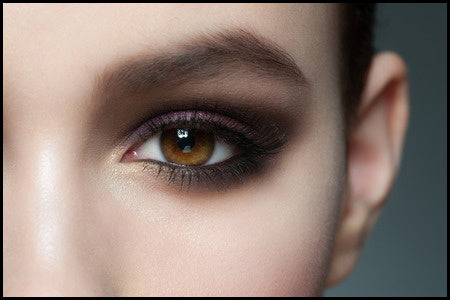 You're getting ready for another date night and once again you're stuck on deciding how to wear your makeup. Do you go for the dramatic eyeliner look, do the lashes or go without, and is a little cheek color and mascara the extent of your beauty routine before heading out the door or will a bronzer be added into the mix?So many questions but thankfully we've got you covered with our five favorite date night looks that you can steal and make your own.
1. Sun Kissed Glow: This is one sexy makeup look that you can almost never go wrong in choosing. It works for day or night and can be dressed up to go with any attire or occasion. The look is all about the glow and to get it, having a bronzer and a highlighter on hand is a good place to start. If you're going for a dewy finish make sure to moisturize your face before applying your foundation. You can also use a cream bronzer to help create the dewy look too. Once you've finished applying your bronzer to the key areas of the face (cheeks, temples, chin, jawline, forehead) the final touch is to add a highlighter along the top of cheekbones, bridge of your nose, and your Cupid's bow. Think Jennifer Lopez, the queen of the bronzer and highlighter combo, but when the two come together it makes for one very striking look.
The key to highlighting is to use a brush that is only depositing color to those specific areas and making sure to blend really well. The smaller the hairs and brush size the easier a time you'll have. For this look you'll want to add either your bronzer or a color in the same hue in the crease and definitely add a dark brown or black liner along the top lashes. Mascara will help to bring out your eyes so don't skip this step. Choose a lip color that's on the neutral side like a nude, soft pink or peach shade in a sheer formula. A nice touch, especially when creating a sun-kissed look is to layer your lip color with a clear gloss, with or without shimmer.
2. The Red Lip: What can we say ladies, It's that simple, a red lip is sometimes all you need to make a beauty statement and it's one of the most popular lip colors at the moment, so go ahead and make friends with a shade that suits you best. You can choose a formula that's sheer, glossy, or matte, and the colors are endless too, from a true red, to a blue red, and an orange red. It's a great look for movie night, a Broadway show, or just a casual night out. For the best red lip results start first by lining your lips with a pencil that is the same color or closest to the lip color you are wearing. This will also prevent bleeding too. Make sure to bring your liner as far down into the lip area so as your color wears off you won't be left with just the liner around your lips. Next add your red lip color on top of your liner. Another tip for making this look even more stand out is to add a second coat of your black mascara. Pro Tip: Make sure to comb through your lashes after the first coat to avoid any clumping. Curling your lashes prior to adding any mascara is also super sexy.
3. All Natural: The key here is to apply your color so it basically looks like you're wearing nothing. The "no makeup-makeup look". Think Rachel McAdams on the cover of this month's Allure magazine. It definitely is super-hot but it's not for everyone. The trick is to be light handed and to choose colors that work with your skin tone. No foundation, concealer to cover any blemishes, redness, or unevenness, also applied under the eyes. A matte bronzer applied to the face, finished with a blush in a pink-nude or soft apricot (depending on your skin tone) applied to the apple of cheeks only. Brows should be groomed and defined but not overdone. If there are areas that are sparse you can fill them in lightly with a brow pencil using short feathery strokes or a brow powder and an angled brow brush. For the eyes, a dark brown or soft black mascara applied to just the top lashes is all the color you need, but if you desire color on the lids you can add a wash of taupe or terra cotta (for darker skin tones) in a matte finish. A clear gloss or lip balm is perfect for your no makeup look. A great go to for a hot summer day. 
4. Soft and Romantic: Easy enough to achieve but having the right cheek color is a must for creating this look since the cheeks are the focus. Choose a blush in a soft rose, peach, or pink color and apply it to the apple of cheeks. A Lip and Cheek Stain in a Rose or Plum-Rose is also perfect for creating the soft and romantic look. Use your fingers to apply to both your cheeks and lips. Apply a tinted moisturizer first to give the skin an even canvas. This will also make for a smoother application when using the lip and cheek stain. 
5. The Femme Fatale also known as "The Winged or Cat Eyeliner Look": This is probably one of the hottest date night looks. There are so many options and variations when wearing it from color, to thickness, length, formulas and design. It's eye catching, easy to create, and can instantly change your overall style. There are a lot of different techniques for getting it just right but the best tip is to take your time. If you're hand isn't steady, try using a pencil liner first to create the cat eyeliner shape and then go over with a liquid liner or gel for a more polished look. For the classic cat eyeliner look the point should not pass the end of your brow,and should be thicker towards the outer edge of your lid. The inner part of your eyelid should be thin and gradually increase towards the outer. Keep this look simple and leave the eye shadow to a neutral color so that it doesn't compete with your liner. Depending on the time of year, or the occasion, there are several different lipstick shades to wear with this eye. I usually opt for a deep berry shade, but a red lip color is probably the most popular.
Of course making sure your skin is looking its best is also important, so drinking lots of water, washing your face and your brushes and getting enough rest is something to keep in mind prior to your special night. Using a gentle scrub prior to applying any makeup will remove dirt from your pores and give you a clean palette for creating your look. If your skin tends to be dry, make sure to moisturize your face after washing, and before applying your make up. Using a primer for the face or the eyes is optional depending on the makeup you decide to wear. If you're concerned with your makeup not lasting throughout the night you can use a setting spray once you've finish.
All of the looks are easy to recreate and can be modified for any given activity. You can be glamorous if you're in the mood, or wear the red lip and call it a day, as long as you're feeling it, the rest will all come together.