7 Steps To Cara Delevingne's Brows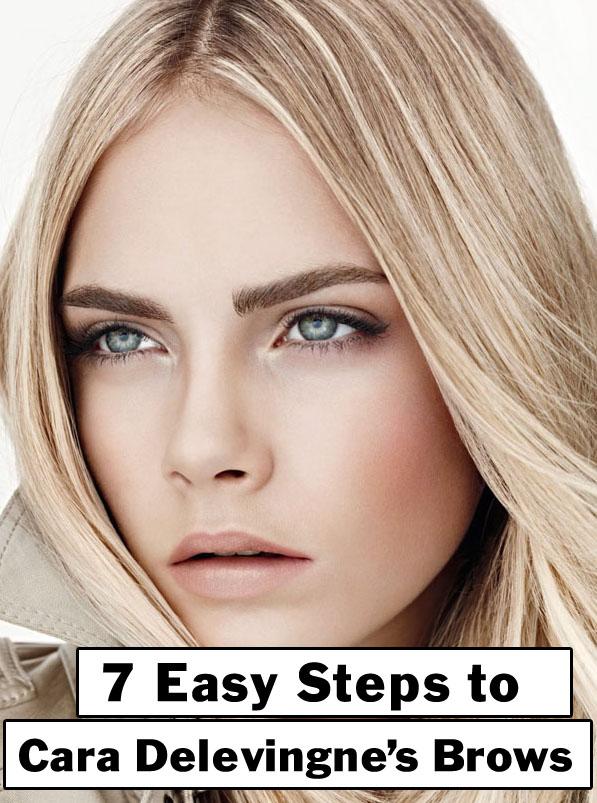 Super model Cara Delevingne has brought the full brow look back in a big way and yes we admit it, we are slightly obsessed. I mean let's face it, brows play an important role to most or all eye makeup looks. They frame the face and make your cat eye makeup or smokey eyes look that much better. And, if you're one of the lucky ones who actually listened to her mother when she told you not to tweeze even though everyone else was doing it, good for you:-)
The good news is for those of us who didn't listen, there are numerous products, tools, tutorials, and tips available that make creating this look possible even if your brows are sparse and you're growing them out. The steps below are easy to follow and can help you to achieve the perfect brow shape regardless of how thick or thin they are.
Step 1: Using a clean mascara wand or spoolie brush, comb your brow hairs up and away. This will give you a more accurate idea of the length and shape of your eyebrows before you begin to groom.
Step 2: Next, using a freshly sharpened eyebrow pencil one shade lighter than your natural brow color, use short, light strokes and fill in the area's that are sparse. Follow the natural shape of your brow and keep the color darkest at the arch.
Pro Tip: The brow pencil will help to create the shape before moving on to step 3. 
Step 3: Using an eyebrow stencil, place over the eyebrow and fill in with a brow powder that best matches your brows natural hair color. Remove your brow stencil and tweeze only the hairs that are outside of your actual brow shape. You can soften the color by brushing your spoolie or mascara wand through the brow hairs.
Step 4: Repeat steps 2 & 3 on the other eye.
Step 5: To give the illusion of a more arched brow use a matte eye shadow in a light shade and apply directly underneath along the length of the browbone with a medium size eyeshadow brush. Make sure to blend the shadow so it is seamless with your eyelid color. You can also use a highlighting stick in a powder or cream form in place of your shadow and apply underneath.
Step 6: Contouring the top of your eyebrows. This is especially good for enhancing brows that are on the fuller side. Using a concealer brush apply a cream highlighter along the top of your brow shape to brighten and contour. Blend any lines that are obvious. If the shimmer highlighter doesn't appeal to you replace with a matte finish but stick to the cream for easier blending.
Step 7: Comb up and away once more so your eyebrows are thickest and darkest at the ends.