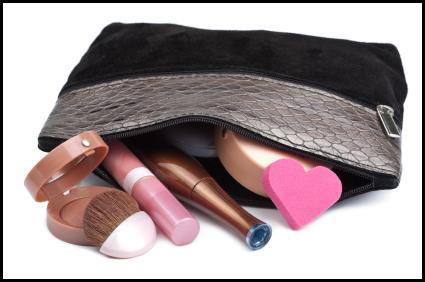 When creating a beauty bag for yourself, keep in mind that a beauty bag is meant to be taken with you. A beauty bag is not your entire makeup collection, but instead a small collection of the beauty essentials you would like to have on hand for touch ups and for making the transition from a daytime to nighttime makeup look on the go. Usually a small travel cosmetic bag is called for and one that fits comfortably in your purse if possible. If you're traveling, this tip is especially important since simplicity is key. Below is a list of our basic makeup necessities and a good place to start when creating your own on-the-go beauty bag.

1. Concealer. Instead of opting for a foundation to include in your beauty bag that tends to be bulky in size, go for concealer. It's perfect for dabbing in all the places needed like your under-eyes, redness, blemishes, and is also great for highlighting under the eyes in a triangle shape to create a brightening effect. Concealer is just enough coverage to not look like you are overdoing it with face makeup, which is perfect for a beauty bag. 
2. Blush. A nice pop of color on your cheeks can make all of the difference and give your face a fresh and more awake look and while you may want to go lighter on your foundation or concealer, you can definitely go a little stronger with your blush especially for evening. Many of us forget how much of a difference a little blush just to the apple of cheeks can make. Use a cream formula and it can double as your lip and cheek color. Choose a blush that compliments your skin tone, so for instance soft pink or peach hues with yellow undertones for fair to medium complexions, and coral, plum, or rose hues for darker complexions.
3. Brow Gel and Tweezers. Having a tweezer in your beauty bag is always a good thing. Having a brow gel, even better. If you're like us and obsessed with your brows then having a pair of tweezers in your beauty bag will ensure that your brows will be free of any stray hairs and any regrowth that needs to be tended to in a jiffy. Find the natural shape that your eyebrows take and then accentuate that shape the way you like. To further tame your brows and keep them perfectly manicured use your brow gel (clear or colored) to set the entire brow or any hairs that are out of place. Here's a tip if you don't want to spend money on a brow gel: Use a clear mascara instead. It has the exact same effect as a brow gel, for a fraction of the price.

4. Mascara. If there's one product you should keep on you at all times, especially in your beauty bag, it is mascara. Aside from wearing eyeliner, there's not another makeup product that accentuates the eyes more than mascara. Not only does wearing mascara elongate the eyes, it draws attention to them and makes any eye makeup look, like a smokey eye or cat eyeliner much more striking and effective. With so many different mascaras out there that all seem to offer different things it can be hard to make a decision about which one is right for you. If you fall into this category, go to your nearest makeup counter and sample a few to get a feel for which one is right for you. Whether you need something super volumizing or extra lengthening, there's a mascara out there for you. 
5. Liquid liner. Whatever look you're going for, adding a liquid liner can make your look 10 times more vibrant and sultry. Keeping a liquid liner in your beauty bag assures that your eyeliner will look its best all day into the evening since you'll have the tools and products necessary for touch-up, smudges, and for intensifying your liner from a pencil to liquid if you want to create a stronger look for night. Also, having a liquid liner in your bag in addition to having a pencil liner is that it's less messy and more durable than other forms of liner are. Great for traveling or for touch-ups, and the perfect addition to your makeup look to give your face the extra touch that it needs. 
6. Lip Color. Having a full face of makeup on but forgetting about the lips is definitely a makeup mistake. A clear lip gloss, lip stain, or lipstick is never a bad idea to have on hand and depending on the look can really bring everything together. For a sexy cat eyeliner look, a bold red lip color looks great, while a stronger smokey eye look calls for a more neutral lip color or gloss, the point is you should have a lip color or gloss in your beauty bag. Gloss is meant to accentuate the lips and make them appear fuller as well as adding just the right amount of shine. Many of the newer formulas also include ingredients that smooth and hydrate the lips so either way it's a win.