8 Makeup Hacks That Accentuate Your Best Facial Features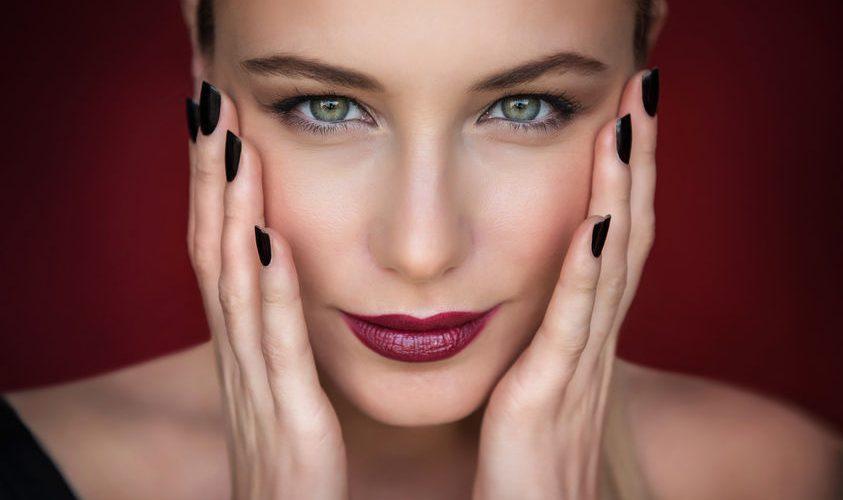 What do you love most when you look in the mirror? Is it the shape of your eyes, their beautiful flecks of color or your prominent cheekbones? Instead of thinking about your "flaws," approach your look with positivity and focus on what's best on your face. Show off the parts that make you smile and watch the compliments (and confidence) pour in.
Wear a Fresh, Minimal Base.
If you're blessed with perfect skin, let it steal the show. Foundation should only be applied as needed so if your skin is a clean and clear canvas, leave it out of your routine. If you still want some coverage, go for a few dabs of sheer coverage foundation followed by translucent powder for a fresh look that allows your skin to shine through.
Draw on a Cat Eye.
Play up gorgeous eyes with a cat eyeliner look to make them even sexier. Use a cat eye makeup stencil to achieve the perfect look and save time. For best results, begin with a powder eyeshadow in the color of your choice before going over it with a liquid formulation. Cat eyes are really attractive because they emphasize the shapes of your eyes and they have a timeless appeal. Draw a more extended wing if you're feeling bold and sexy, or keep it simple and classy with a cute kitten eye. If you struggle with creating winged liner, try using an eyeliner stencil, like our Eye Candy Eyeliner Stencils.
Make Your Eye Color(s) Pop.
Show off the colors in your eyes by wearing eye makeup colors that complement them. This will give extra attention to the tones and hues you love. Green eyes are complemented by taupes, purples and browns. Blue eyes look best with browns, oranges and corals. Brown eyes stand out most with bronzes, coppers and golds. And finally, golds, browns and greens look best for hazel eyes.
Wear a Smokey Eye.
Are your eyes the stars of the show? Wear minimal makeup but play up your eyes to give them even more of a platform to shine. If you're already a regular wearer of a smokey eye, change things up. Use a new formula for shadow or liner, or simply switch up the colors you normally wear. There are so many different ways to do a smokey eye so don't get stuck in a rut!
Give Your Lips the Full Treatment.
Everyone wants a pretty pucker. If you have a gorgeous set of lips, you'll want to highlight their natural beauty and add emphasis to accentuate them. Because of a larger surface area, fuller lips are more prone to dryness and chapping and of course, the fuller they are, the more obvious these flaws will be. Start with well-exfoliated lips. Afterwards, moisturize well and let the product sink in.
Next, define your lips by lining them in a color matching the lipstick you've selected for your look. Once you've finished lining, go ahead and fill in the color to your lips. Brush on a light layer of your lipstick then add a tiny bit of gloss. Finally, give your lips a discreet highlight at the cupid's bow at the top of your mouth. The final effect should be like your natural lips but a little more pronounce
Strobe Like a Goddess.
If you have bone structure to rival Cate Blanchett, by all means direct attention to your cheekbones. Play them up with a soft and shimmery highlighter.  Dust it over your favorite features for a truly dazzling effect.
Elevate Your Brows.
Ladies with show-stopping eyebrows or brow bones should really allow them to take the center stage. Eyebrows frame your face and make the initial introduction to your eyes. Beautiful brows are some of the most coveted gifts in the beauty sphere so flaunt them if they're yours.
Brush your brows with your tool of choice (a brow brush, a spoolie, etc). Add a little brow gel for unruly hairs and wait while it dries. Carefully fill in your brows using short, wispy strokes and following their natural direction. Next, highlight to illuminate your brow bones to make your eyebrows more noticeable. A little highlighter goes a long way so add a little above and below the brows. You can always add more if you need to but you'll ruin everything you've done so far if you have to clear excess product.
Exaggerate Lush Lashes.
Even eyelashes with natural bombshell vibes should be groomed to lead in their best light. Comb, curl and apply your favorite mascara. Tight line by lining the waterline of your upper lashes with gel liner. Add a natural colored eyeshadow and your lashes will pop with pretty definition.