These Makeup Tips Will Totally Improve Your Eye Makeup Game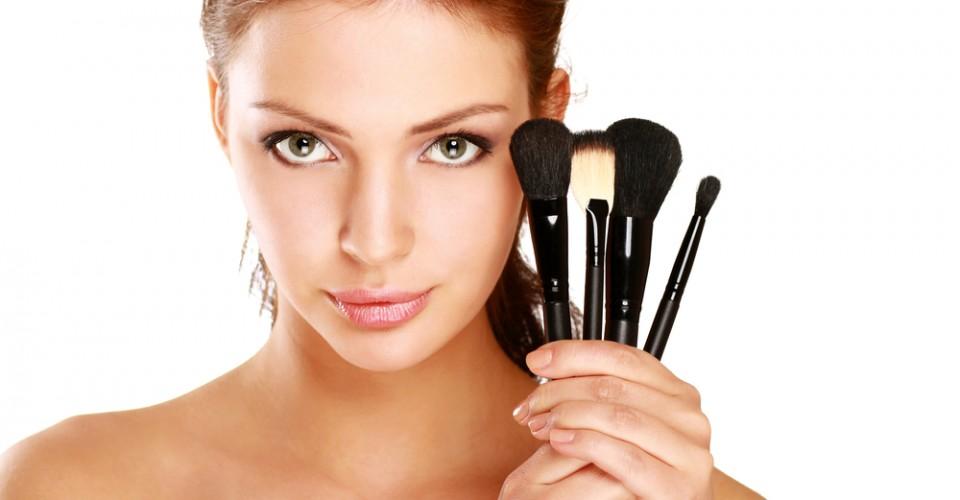 Have you reached an eye makeup plateau? Do you feel like you always get stuck in a rut doing the same looks over and over again, or are you just feeling like your skills could use a little upgrade? Either way, these are the tips to take your eye makeup to the next level.
Keep It Clean
If your eye makeup always looks dull, you could be using makeup that's past its prime and needs to be tossed. Mind the recommended use by dates to keep things sanitary and keep up that gorgeous color and texture. Old makeup just doesn't have the same look as a fresh batch does. According to Shape Magazine, mascara and liquid liner should be replaced every 2-3 months, concealer every year and eyeshadow and pencil liner up to every 2 years.
Banish Excess Shine
Do you prep your face before you do your makeup? Watch any given Fashion Week behind-the-scenes video and you'll notice that makeup artists always clean models' faces before they begin. Start your routine by swiping your face and eyelids with a makeup remover. This will remove any excess oils for the smoothest and cleanest application. Next, use an eyeshadow primer on your eyelids to prevent streaky, oily, disappearing colors caused by sweat, the skin's natural oils and the natural movements of your eyes throughout the day. This will ensure that your colors stay true and your eye makeup will look just as it did when you applied it hours earlier. Apply your eyeliner after you've finished with your shadow.
Use Quality Brushes
Image source: bethbenderbeauty.com
Buy a set of high quality makeup brushes for the face and eyes. They're specifically designed to work with your makeup for all areas of the face, like contouring, blending and highlighting, all of which are much more effective when using a good brush rather than using your fingers or brushes that are constantly loosing hairs or coming unglued from the ferrule. It's an investment you'll be happy that you made.
Use a Stencil
image source: bethbenderbeauty.com
If you're not a freestyle eyeliner pro, why settle for a less than a fabulous look? An eyeliner stencil can not only help you to achieve a precise, professional-looking application – every time, but with these newest gentle adhesive eyeliner stencils seen here, allow you to create some of the most unique eyeliner looks ever. Build a collection of stencils for your various needs including bottom lashes, cut crease eye makeup and a smokey eye.
Charlotte Tilbury, makeup artist to stars and fashion legends like Kate Moss and Naomi Campbell, stresses the importance of using a sharp eyeliner pencil. She also recommends using a brush to apply gel eyeliner over your pencil liner whenever you want a more "intense" look. We say YES to both.
Care for Your Lashes
The more you care for your canvas, the prettier your eye makeup will be. Make sure that you're carefully removing your eye makeup each night with an effective yet gentle remover. Lashes are easy to lose and slow to grow back so treat them with care.
Prepped lashes look best when you add mascara and we recommend getting into the habit of regularly curling them before makeup. Never curl your lashes more than once per day, keep your curling under 10 seconds per eye and never curl lashes after you've put on mascara (unless they're still wet)!
Use Brow Gel
Some of us have brows that are just so unruly to the point where the hairs are growing in whichever directions they please and in turn can be very difficult to manage. This is where a brow gel comes in and saves the day. After combing your eyebrows and applying makeup, finish up by brushing a clear brow gel over your brows to set the look and keep hairs in place all day.

Go Waterproof
Do your eyes tear up in the slightest of breezes? Do you go home only to discover you've been walking around looking like a raccoon? It happens. Well, it's time to consider going waterproof. Using a waterproof eyeliner and mascara to keep your makeup in place will avoid all of those eyeliner and eye makeup tragedies. Before you invest in a waterproof formula, get your hands on a gentle yet effective waterproof eye makeup remover.

Pro Tip: Avoid wearing waterproof makeup every day, according to makeup artist, Myiesha Sewell and just reserve waterproof solutions for late nights out, windy days, rainy or snowy days, etc. If you do wear a waterproof mascara make sure to coat your lashes first with a water-base formula before going over with waterproof. This will not only protect your lashes, but make the removal process that much easier.

Learn from the Best
Have you ever spent time in a makeup chair? It's a hot spot for learning tips and tricks! Many of us have learned so much over the years from professional makeup artists and with practice, a lot becomes second nature.
Case in point, your eye makeup will enjoy a serious upgrade when you learn where to direct your eyes for the different steps of mascara application. It makes a HUGE difference! Gently close your eye while applying mascara to the center of your lashes. Next, look down towards the opposite corner of the floor when applying strokes to your outer or inner lashes.
For example, when you apply mascara to the inner corner of the lashes on your right eye (which are on the left side of your right eye of course), your eyes should be looking down and to the right. These details will help you coat all of your lashes evenly, from the base to the tips… even the notoriously tiniest of the bunch!