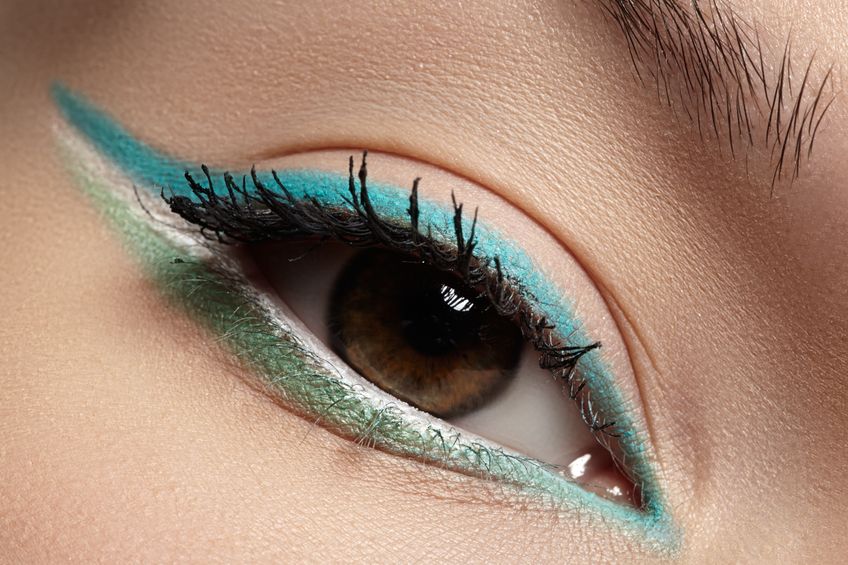 Your eye makeup is usually the part of your makeup routine that you spend the most time on. Trying to perfect your eyeliner and eye shadows can be trying, especially if you don't have lots of time available. If you're in the mood for changing up your eye makeup routine just a little bit, or feeling like there might still be room for improvement, then you'll want to check out these eight pro tips!
1. Always curl your lashes before applying mascara
Many of us skip this step, or don't feel the need for including it in their beauty routine, but for those who know how much of a difference this little step can make, they never leave the house without doing it. For those of us whose lashes are on the shorter side we know that curling our lashes makes the difference between limp lashes and long beautiful lashes. If you're up for the challenge and need a little convincing grab your lash curler and start by crimping down as close to the lash line as possible to make the most out of this step and hold for about 10 seconds, repeatedly pressing down every few seconds as you move from the base of your lashes to the tips.
Pro Tip: Some lash curlers actually heat up to increase the curl factor but you can also heat your lash curler using a blow dryer. You want to heat the pads only for just a few seconds. If you're using a lash curler with metal sidebars wait a second before curling. For the best results we recommend Tweezer Man Super Curl Eyelash Curler. It's the easiest one to use and the results are amazing!
2. Prime
If you want your eye makeup to last, make sure you prime your lids. Especially in the summertime when eyelids tend to get shiny, and eye makeup is a little trickier to make last. Try Urban Decay's eye shadow Primer Potion or Two-Faced's Shadow Insurance. If you don't want to spend the money on a primer, DIY and try using concealer on your lids first, followed by a light dusting of translucent powder before moving onto your color.
3. 
Use individual lashes
Lashes are going to be a hot trend for fall 2014 beauty and if you're already a fan of faux lashes like many then you need to check out the individual lash clusters. Instead of using a full strip of lashes, add a few lash clusters to the outer eyes. It looks so much more natural and you have a lot more creativity over where to put the lashes based on what looks best on you. You can also glue some lashes onto your bottom lash line to get more of a 60's mod look, also a trend for fall. The best way to apply is by squeezing a drop of lash glue to the top of your hand and pulling a few of the lash cluster from the box and sticking them near the glue. Start with just a few for each eye. Dip the end of cluster into the glue, (you don't need a lot) and slip the lash into your natural lashes trying to avoid gluing to the skin or lid. Check out Ardell Lash Clusters. 
4. 
Pencil liner to liquid
If you love the look of liquid liner but hate how difficult it is to use, try this easy DIY tip. Heat up the top of your pencil liner by holding it over a lighter for a few seconds. The liner, when applied, will give you the consistency of a liquid liner without having to deal with the difficulties of a liquid liner application.
5. Help with mascara lines
Want to put mascara on without running the risk of getting it all over your lid and the bottom of your eye? Use a piece of paper! For your bottom lashes, put the paper underneath the lashes and then apply your mascara. Take the piece of paper out and voila! Clean bottom lash mascara, not a drop of it on your skin. You can do the same for your top lashes as well.
6. 
Set your brows
The brows are the eyes' best accessory. Make them stand out by filling them in with a brow pencil in a shade slightly lighter than your natural brow color. After that, brush them with a brow brush. If you've got that down, you'll need a way to make sure they stay put all day. An awesome DIY tip for those who don't want to spend the money on a brow gel is to use a clear mascara to set them instead. It does the same thing and for only a small investment. The clear mascara perfectly mimics what a brow gel would do and you can spend the extra money on some new eye makeup brushes instead.
7. 
Remove makeup on-the-go
If you're stuck somewhere without any eye makeup remover, here's a tip for you. Use lotion. The lotion will remove eye makeup just as well as any makeup remover. Just be careful when you're removing and use a soft tissue or a slightly damp cloth. It's also a great backup for those times when you're out of town and staying in a hotel and you've left your makeup remover at home. And you thought those hotel lotions would never come in handy.
8. White liner
This underestimated liner can really do it all. Aside from using it for it's regular use, as a liner, did you know it can also be used as an awesome eyeshadow base. Before adding any color try applying your white liner over your eyelid where you're going to be layering your shadow and watch your eye color POP! Adding a white base to your lids first makes any color you place on top become three times more vibrant than it would have been. You can thank us later :-)