Easy Eye Makeup Looks for Day and Evening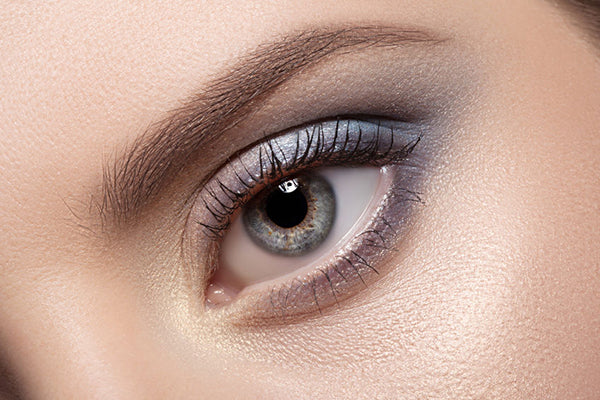 When it comes to makeup the one feature we never get tired of enhancing are our eyes. It's the first thing we notice and with all of the ways in which you can make them stand out, the looks are endless. Just by adding the right liner or color can really play up your features and make sure that your eyes stand out. The difficult part can be deciding which makeup looks are suitable for your workday and how to take that same look into evening for after work. Below are just a few to play with that are easy enough to do and can be modified for nighttime too.
The daytime smokey eye

Does this sound like an oxymoron to you? Not so beauties. It's possible to wear a smokey eye during the day that is work appropriate and also sexy enough to carry you through into the evening for a girls night out. There's a couple of ways to do this and one of them is to use a kohl liner.
Start by priming your lids, then, take your kohl liner (in black, brown or gray) and apply it to your eyelids as you would apply your eyeliner. Next, continue by increasing the thickness of your liner so that about half to three-fourths of your lid is covered with the kohl liner. Then, take a dome-shaped blending brush and start blending upwards and out to soften any harsh lines.
It's that easy to create a smoked-out effect for day and if the color is still a little too dark for your daytime taste, try this pro tip: over the top of your liner, apply a skin-toned face powder. The powder will lighten the color without looking unnatural and will also keep the liner from smudging, simple as that. To finish the kohl liner look, apply a highlighter to your brow bone and to the inner corner of eyes that is a matte, light color instead of a shimmery shade to keep the look a little more subtle for day.
The second way to accomplish a daytime smokey eye is to use a combination of hues in nude's and brown's. Start by applying a light brown matte shadow across your entire lid. Next, apply a slightly darker shade of brown also in a matte formula and blend into the crease and outwards. Apply a highlighter to your brow bone and the inner corner eyes and finish your smokey eye makeup with a swipe of brown eyeliner across the lash line, blending out slightly to complete the smokey eye look. The key to keeping these looks daytime appropriate especially for work, are to use matte shadows and to blend, blend, blend.
The Classic Cat Eye
Everyone loves a good cat eye and this is one makeup look that seems to be staying on trend for good. Not only is this look timeless and extremely popular, it also works for both daytime and evening, and can be glammed up even more for the evening to really make a bold eye makeup statement. There are many tricks to perfecting your cat eyeliner look and different ways to do it. These are just a few tips and tricks on how to accomplish them with perfection.
To create the perfect cat eye makeup look it's a good idea to base your liner off of your eye shape. If you don't have time to experiment, here's how to figure out what works quick.When making the cat eye, follow the natural line of where your bottom lash line would extend naturally up past your top lash line. This is where your cat eyeliner should follow. Once you've got the natural path for your liner sorted, extend the liner out as far as you want and then bring the line back down to meet your lash line.
Another way to make sure your cat eye is on point every time and perfect is to use a cat eye makeup stencil. This is definitely the easiest and the quickest with beautiful results. If you still think that a full-on cat eye is too much for the daytime, then you can tone down the look by using a pencil liner or one in a kohl form, so that it's less intense. If you want to make the look a little more vivid for after work, apply a liquid or gel liner over the top to intensify the color and make it last even longer. 
Warm glowing eye makeup

Using eyeshadow shades that are in between light and dark is the perfect way to moderate between day and night. Colors that are golden or rose toned are not dark enough to look too harsh in the daytime and can also play up your eyes enough for evening wear. For a nice rose-gold toned look, apply a hue in a light dusty rose infused with a touch of gold as an all-over lid shade. Apply a darker rose shade in your crease to add dimension. Finish with a dark brown eyeliner in a pencil or powder and apply along the lashline. If using a powder you can dampen your eyeliner brush slightly before applying your liner for a more defined line. For an after work pick me up, apply a shimmery rose color in a light hue to the center of your eyelids.
For a warm, golden look that can be worn day or night, apply a matte brown shade in your crease, a swipe of dark brown or black eyeliner across your lash line and then add a touch of gold eyeshadow under your eyes (starting at the outer corners to halfway across your bottom lash line) for a burst of color. The pop of gold under your eyes is just enough to make them ready for a night out on the town, and can still be worn at work or during the day since it's softer in tone. If gold isn't your thing and you're feeling a little more adventurous, try wearing a teal or purple. Both of which are on trend and popular right now for applying as eyeshadows and eyeliners. And as always, remember beauties it's only makeup, so make sure to have fun.