How to Put on Eyeliner to Enhance Your Eyes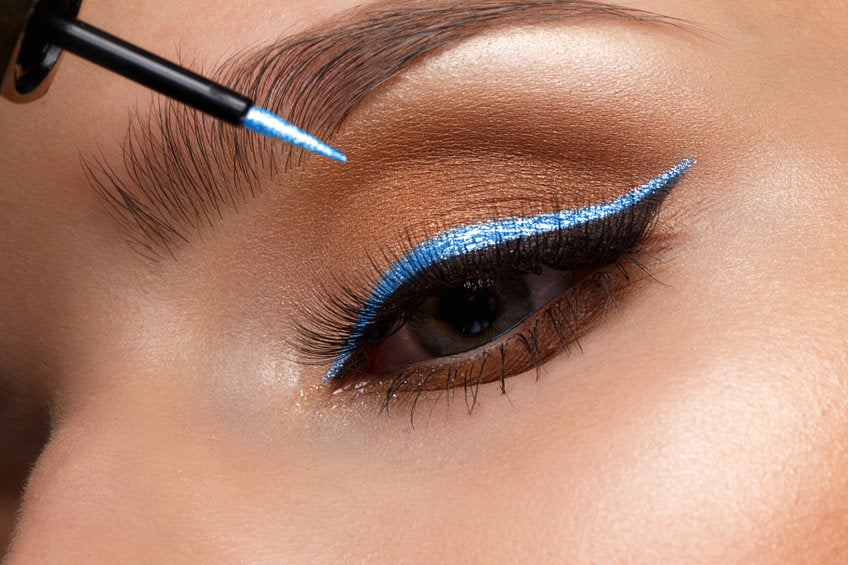 Whether your eyes are a beautiful brown, gorgeous green or a piercing blue, when it comes to learning how to put on eyeliner there are certain colors that do an amazing job at enhancing them and making them stand out even more. 
For the blue-eyed gals, there are a number of easy ways to apply eyeliner that will bring out your eye color. These looks are quick and they can work for day or night. Even the simplest application of liner along the eyelid can bring out the blue or brown of your eyes. And going for a bold dramatic eyeliner look - such as wearing a bright color at the waterline - can have the most striking results of all. 

Choose any of these looks. They're all equally effective for creating striking eye makeup styles that will get noticed.
Choose the Right Eyeliner Color.

The right eyeliner color makes all of the difference. Sometimes it's a matter of trial and error but this is probably the best way to pinpoint your options for the perfect shades. For example, some of the most beautiful eyeliner colors for blue eyes include purple, lavender, plum, taupe, gold, silver, bronze, slate and blue. These colors will also elevate your eye makeup as eyeshadows for your lids. 
Go for a Purple Eyeliner: When you think of choosing an eyeliner for yourself purple may not be the first color that comes to mind, but on blue eyes it actually looks amazing and is a great way to draw even more attention to your eyes. The reason behind this is that purple is a mix of red and blue. So if you use a purple eyeliner that has blue undertones it will most likely bring out the blue beautifully. When deciding on an eyeliner color to wear, consider going for a deeper, darker shade of purple, as this will give you the perfect contrast for the most striking eye makeup effect.


You can even enhance the look of your purple eyeliner by adding a wash of a pale pink eyeshadow to the lids before applying your liner. In the picture seen here, a cat eyeliner look in purple was created before adding the black cat eyeliner along the top. There's also white eyeliner pencil in the corners and along the waterline. This is a stunning eyeliner look that works for day and night but if you're just learning how to put on eyeliner, you can replace it with tight lining along the lashes instead.

Another way to enhance purple liner is to apply a soft brown eye shadow to the lids first. Complete your eyes by curling your lashes and adding mascara as desired. Speaking of brown, purple eyeliner also highlights the beauty of brown eyes (and green eyes) to reach completely new heights!

Pro Tip: for the ultimate WOW factor, apply one coat of black mascara from the lash roots to the end of the lashes, then do just the tips in a violet or eggplant colored version.
Use an Eyeliner Stencil.

So you've got the color down to a science but you're still having trouble getting both eyes to look the same. Yep, we know how you feel. Been there, done that beauties!If your eyeliner isn't perfect, it could be all downhill from there, but, we have the perfect solution to your eyeliner woes. Did you know you could add an Eyeliner Stencil to your beauty arsenal? 

Eyeliner stencils are easy to use and they really save the day when it comes to creating so many different eyeliner and eye makeup looks and styles. You can use an eyeliner stencil for top and bottom liner, winged eyeliner, cat eye makeup and smokey eyes- all with makeup artist results. They're flexible, they fit all eye shapes and sizes and they make applying eye makeup a breeze.                        
You can step up your eyeliner game even more by using a gentle adhesive eyeliner stencil. Eyeliner stencils that are adhesive also allow for more freedom when creating all of your favorite and unique eyeliner looks, like a gradient rainbow, half glitter, half gel, polka dots, stripes, and endless designs using all eye makeup formulas. Try them once and you'll be hooked.                                                                                  
Add Drama to Your Waterline.
                                                                         
Add a dark color to the waterline for an easy, instantly dramatic eyeliner look. Opt for a softer eyeliner pencil, gel liner or a waterproof eyeliner pencil that will glide on easily and not tug on your eyes. Waterproof eyeliners offer the added benefit of being similar to gel eyeliner which makes them last longer- even in the most humid of climates. 

You can add an eyeshadow in the same color right below your pencil to catch any color that may fall. 
Pro Tip: creating professional makeup looks can sometimes take a bit of practice, so be patient, remember it's just makeup, and  don't be afraid to experiment, try something new, and most importantly, have fun. 

Apply White to the Inner Corners of Your Eyes. 

Applying a white matte or champagne shimmer eyeliner to the inner corner of your eyes will give you an instant pick-me-up. It creates the illusion of waking up tired eyes. 

Pro Tip: make your eyes pop by using an eyeliner pencil in a light beige or white hue at the waterline. You'll experience an instant transformation and the whites of your eyes will look brighter than ever. One of our favorite beauty tips. 
Choose Complementary Colors.

Look for eyeliners in colors that will complement your individual eye color(s) and make them really stand out. Look at the main color of your eye (such as hazel or brown) as well as the most predominant colors in their flecks. When complementary colors are placed next to one another, they're able to work together to become their brightest and truest shades yet.

Choose an Eyeliner Hue in a Shade Close to Your Eye Color.

You can also play up the intensity of your eyes by lining in the same or a similar color. Try lining blue eyes with blue eyeliner, brown eyes with brown eyeliner, green eyes with green eyeliner and hazel eyes with a green or brown eyeliner. 

Just remember to avoid selecting a color that is deeper than the color of your eyes. You want the eyeliner to complement your eye color, not compete with it.

Putting on eyeliner is one of the most fun aspects of eye makeup. There's always new trends to try out, colors you can't live without and every season brings a different style so they'll always be a new way of wearing your eyeliner that can be incorporated into all of your eye makeup looks for day or night.