Love Your Eyeliner? 10 Pro Tips You Should Know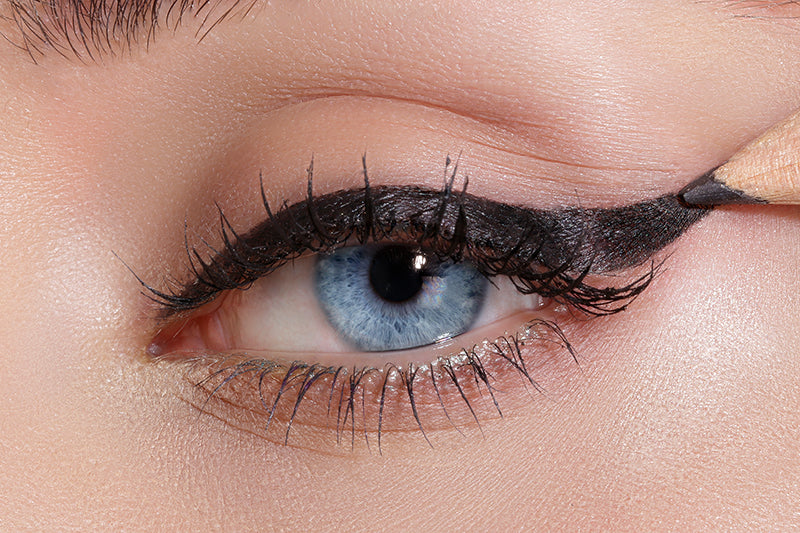 We all have our favorite eyeliner. Some turn to their usual dark brown or black, while some love using a deep gray to smoke out their eyes. It's different from the usual black liner, but subtle enough to not be too prominent. Some of us love our go to liner so much that we use it almost every day, in the exact same style and wouldn't dream of changing it up but if you're feeling like you do, these pro tips could be the tipping point and inspire you to break free from your everyday liner routine and maybe even find a new look you like just as much.
1. Remember that there's more than one type of eyeliner. Sometimes we get so comfortable with our eyeliner pencil, or liquid liner that we forget there are other formulas that might work just as well if not better. For example, if you do use a pencil liner, why not try a gel eyeliner pencil to get a more intense look once in a while. Plus it has all of the components of a gel liner in a pot so it's smudge proof and water resistant. If you love the liquid liner look but want something a little easier to apply and remove, then a gel liner is what you should try. 
PRO TIP: Save time and get the perfect look using our Eyeliner Stencils.
The best way to apply a gel eyeliner is to deposit a bit of color to the outside/top of your hand.Think of it as a palette. Next using your eyeliner brush dip into the gel wiping off any excess color before applying to the lid. Start your liner about ¾ of the way in and work your way out towards the end of eye. Using short stokes press the brush along the natural curve of your eyelid until you reach the outer eye. Once you have the first line applied you can go over to make your liner thicker or extend to create a winged liner look.
Depending on the style you are going after you have a few options as far as brushes. You can choose an angled brush for a cat eye, or precision liner that is thin and tapered for a thicker more dramatic look, or a dome shaped liner for a simple line across the lid. Taklon eyeliner brushes, which are synthetic are great for creating any of these looks. 
2. Tight Lining: No matter what liner look you're going for, this is one of those eyeliner tricks worth giving a try. Tight-lining is a great technique to enhance your eyes in the most subtle way. Just a very thin line applied right down against the lash roots is all it takes but the difference is amazing. Beginners: If you're a first time liner, start by stippling the liner in between your lashes to form a continuous line. All you have to do is lift up your upper lid, while looking down into a mirror, and apply your dark pencil in short strokes.  Pro Tip: If you're using an eyeliner pencil to create the look don't forget to sharpen it before lining.
3. Brighten with a nude or white liner. By lining the bottom lash line or waterline with either a nude or white liner your eyes will become significantly brighter and appear more awake. It's amazing what a simple step such as this can do for your eyes. To do, simply pull your bottom lid down slightly and run your pencil along the inner rim. For the best results sharpen pencil before applying.
4. Use an eyeshadow for a smokey eyeliner look. We like to use a black eyeshadow for a less harsh liner look. You're able to 'smoke out' the liner more than you would be able to with a pencil liner. Also, it's a lot easier to remove and to manipulate into looking the way you want it to. Don't have a shade of eyeliner that you really want to try on your eyes? See if you have a similar shadow in your makeup bag and apply with an angled brush like you would a gel or cream eyeliner.
5. Celebrity Eyes. One thing a lot of female celebrities like to do with their smokey eyes especially on the red carpet is to line all the way around and all the way down to the inner corner and across the bottom lash line. No, it's not a look that you might wear for day but for night perhaps? To do on yourself we suggest lining your eyes first with a pencil liner and then going over it with a liquid liner  or a gel liner to make it more intense.
6. Heat it up. You don't even have to switch your favorite eyeliner out for this tip. Heat the tip of your pencil liner up with a blow dryer for just a few seconds to give your liner a whole different appearance. The heat will make the liner look more like a liquid liner and give it a more intense finish. You can also use a lighter to do this, just swipe it directly under the liner without touching it. The heat will do the job and you'll see what a difference a little heat can make as soon as you line your lids.
7. Outline. The newest runway trend in eye makeup is to outline your liner instead of filling it in. If you're feeling a little daring, try this with a cat eye. Instead of filling in the space you usually would when doing your regular cat eye, leave the space open to get the 'outlined' effect. Although this may be a little different than your usual eyeliner look, it could be the perfect thing you need to spice up your makeup for a girls' night out.
8. Base liner color on your eye color. Think about it this way, if you were looking at a color wheel, you should be accentuating your eyes with colors that are on the complete opposite of the color wheel. For example, if you have hazel eyes, a plum liner will make your eyes pop like no other. It's a known fact that brown liner makes blue eyes stand out, so try to step out of your comfort zone with liner color if you are really looking to make your eyes the star of the show.
9. Don't be afraid to use more than one color. The most famous of celebrities have been known to use more than one liner color on their eyes. Whether it's a black top lid and a bottom lashline with smudged brown liner, this is definitely one tip you should try to incorporate into your liner look. You can even try lining your bottom lashline with something vibrant like an aqua or a purple liner, while keeping the top in neutrals. When done correctly, it makes a stand-out statement and really brings your eye makeup to a whole different level.
10. If you're going to waterproof it, layer it. If you're planning on getting wet during the day or if makeup easily smudges on your face but you don't necessarily like the way waterproof liner can flake or be hard to take off after a long day, try this tip: layer the waterproof liner over a non-waterproof one. By doing this you'll not only make the color more vibrant, but it will be easier to take off and there's less of a chance it will flake away. The same rule applies to wearing waterproof mascara. Coat the lashes first with a water-base formula and then go over with a waterproof.