6 Eye Stencil Cat Eyes For Your Next GNO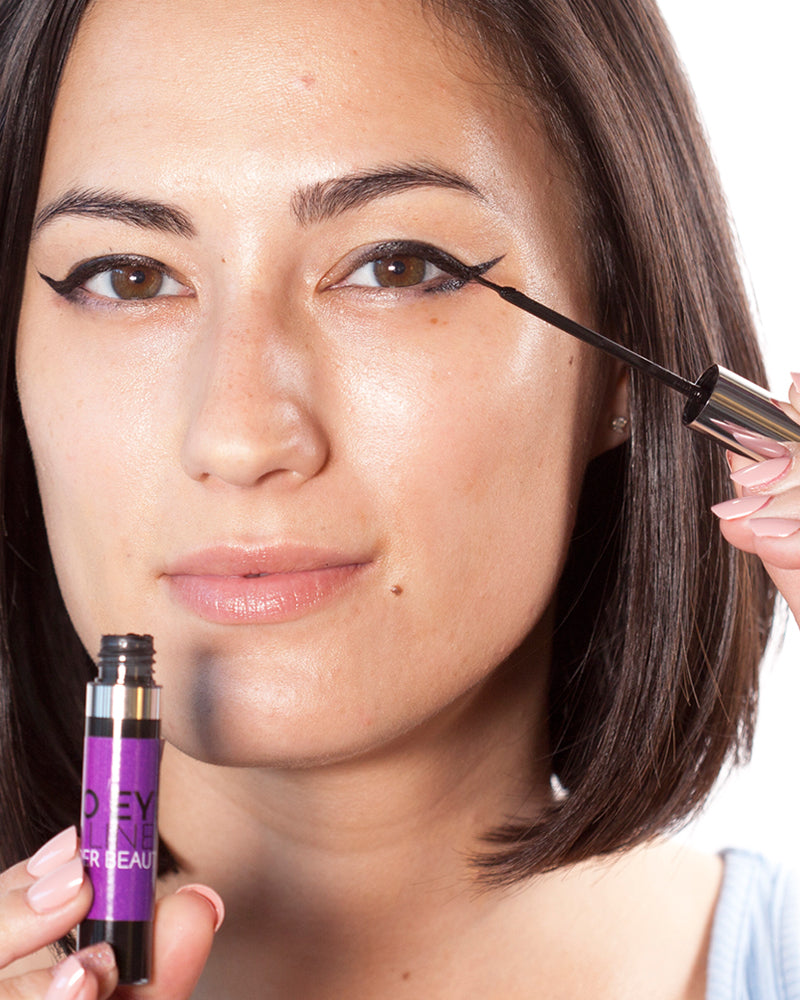 We are of the belief that a weekly girls night out is essential for your health. GNO is the perfect excuse to get dressed up in clothes you would normally never wear and put on fun, daring makeup! If you are going to be experimenting with makeup, you don't want the experience to be traumatizing, so why not make it easier by using a cat eye stencil?! A cat eye is the perfect way to spice up any makeup look and there are so many fun ways to use your eyeliner stencil to create super unique and fun cat eye looks. Use the following list to plan out your next GNO makeup look! Make sure to comment below and tell us which one you're looking forward to trying out we love your feedback!
1. Double liner
This cat eye look is super fun and definitely adds more of a sultry vibe to the look more than just a regular cat eye does. Start by using your eyeliner stencil to fill in the top part of the liner with black shadow, placing it as close to your lash line as possible and extending outwards. For this look, you're going to want to make the cat eye a bit longer than you usually would, so position the stencil accordingly. Next, go over the shadow with a gel or liquid liner to intensify the look. Next, sketch with a small liner brush a line extending from the tip of the cat eye to halfway on the bottom lash line. Go over the line with gel or liquid liner to finish this look!
2. Empty space
We love this negative space colored cat eye makeup! To get this look with your cat eyeliner stencil, first you will want to choose a fun liner color that works well with your skin tone and eyes. Next, position your winged eyeliner stencil and fill in the outer part of the stencil, stopping about a third of a way in from the lid. Then, you will want to begin to fill in the innermost portion of the eyeliner stencil, stopping while you still have a large chunk of space between the two filled-in spaces. Make sure you clean up the edge of the negative space by drawing a straight line to end the liner. This will make a perfect empty space on your eyes! 
3. Layered cat eyes
We love the idea of applying a few extra layers of color above your original cat eye! It's a subtle but very sexy makeup look. In the photo below, a stripe of white liner is added above the black, but we suggest trying out glitter liner, it can be easier and more effective. If you don't have glitter liner, you can use loose glitter by applying glitter glue to a small liner brush, dipping it in the glitter and applying in as thick or as thin of a line as you want! 
4. Smokey cat eye
You can totally combine a smokey eye and cat eye look all in one by attempting this awesome technique! This is easily one of the more popular and hotter look to achieve using the eyeliner stencils. To get the look, fill in your cat eyeliner stencil with a black eyeshadow or use a kohl liner that is very blendable. Once you have filled it in, take a small blending brush and begin to smudge the top of the cat eye so the edge is less sharp. Then, apply a dark chocolate color and blend that into the edge you just smudged out, this will help to make the cat eye a little less harsh. Apply the same shadow or liner you used for the cat eye under the eyes and blend accordingly. 
5. Purple and tan
We are in love with this bold purple cat eye and warm-toned eyeshadow look! Using purple liner or shadow, fill in using your eyeliner stencil. You can choose to keep this look soft and opt not to go over it with a darker color or a product with more pigmentation, or you can just add additional layers of the purple color. Whichever fits you best! Next, blend a tan shade eyeshadow into the crease. The color should have orange undertones to really make the purple pop! Extend the color to the tip of the cat eye, so your eye is elongated. Add a light shade to the center of your eyelid that has yellow or tan undertones to finish the look! This is another look that is easier to accomplish using the cat eyeliner stencil.
6. Dotted
This cat eye is definitely a bit more difficult than a regular cat eye, it might be a little more tedious, but it's super fun and looks gorgeous when completed, so don't be afraid to experiment with it! First, fill in ⅓ of your eyeliner stencil (the part closest to your inner corner) like you normally would. Next, you will want to begin creating small dots. The key is to keep the dots super close together and then gradually space them out a bit more as you get further out to the wing. The dots should be fairly small, as making them too big can make the look appear a bit clumpy or mixed together and that is not the look you want. As you make more dots, the wing should end with a single dot on the tip.