Quick Tips for How to do Trendy Eyeliner Looks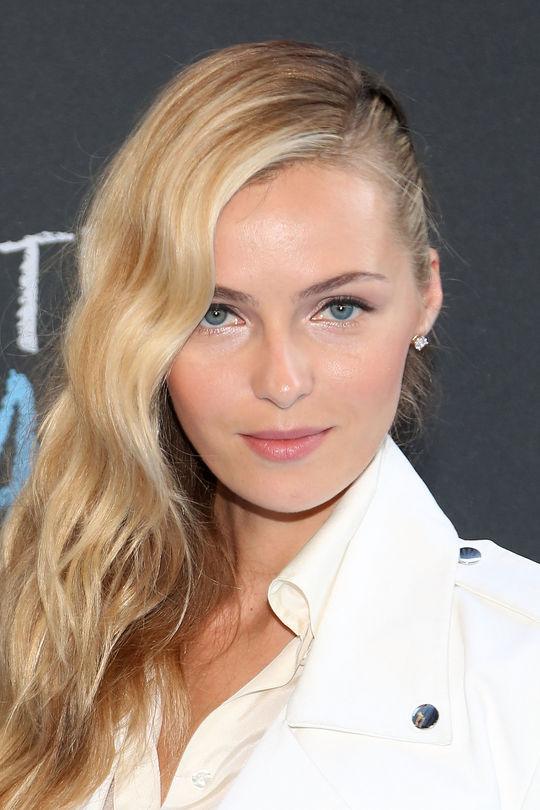 With all of the highlighter that's been featured on celebrities and models this season and now for summer 2014 it's slowly becoming one of our newest obsessions. We don't usually leave the house until our eyeliner and highlighter are perfectly applied and we are rocking that gorgeous dewy look. The eye gloss look seems to be something that we are starting to see more of but adding a shimmer to the inner corners in a cream may easily beat out the wet gloss look.
Don't get us wrong, it's pretty but our advice before investing in an eye gloss is to add a little vaseline over your favorite eye color and see how it wears, and if you really like the look and how it holds up after a few hours then you should go for it. Anyway getting back to the eyeliner look seen here, we thought this photo of model Valentina Zelyaeva at the premiere of The Fault in Our Stars might at least convince you to add a little shimmer the next time you are feeling feline and decide to go for the sexy cat eye makeup look. 

How to do the eyeliner is pretty straight forward, it is tapered at the inner corners, and as you get towards the center it begins to get thicker and is finished with a subtle flick that doesn't extend much beyond the end of her lashes, but it's the placement of the shimmer to her inner eyes and underneath stopping just midway that brings the whole eye makeup look together. You can get this look easily with either a shimmery cream eyeshadow or a finely milled powder shadow. This is also a look where shiny eyelids actually work to give you an even more dewy finish so if you can omit the primer give it a go.
When applying your shimmer especially if its a powder make sure to use a brush that fits right in the corners like our precision smudge and blender brush. Placement is everything when creating this look. For applying a cream, either a concealer brush or cream eyeshadow brush will be your best bet. 

6 makeup tips to consider and perhaps include when creating your eyeliner:
1. Give lift to your eyes by applying a concealer that is one shade lighter than your natural skin tone at the outer corners.
2. A Great trick for making eyes look even wider. Add a couple of individual lash clusters to the outer corners of your eyes. 
3. Need to look more awake? If you have a deeper skin tone, neutralize purplish under eye circles with an orange pigment. When topped with a concealer in the same color as the skin tone, the area will look bright and flawless. Fairer complexions should choose a peach-toned concealer.
4. Switch out your go-to black mascara for a plum, eggplant, or turquoise and apply to your lower lashes for a subtle color pop. 

5. Add a subtle sparkle to your lashes: Apply a coat of mascara and while your lashes are still wet, using a flat or taper eyeliner brush, dip it in a glitter shadow and hit just the tips of your lashes. A super gorgeous look especially at night! 

6. Another liquid liner tip: If you want to create this look using a liquid eyeliner but are still perfecting your skills for the perfect line, try lining your eyes first with pencil (it's much easier to manipulate), and then go over with your liquid liner on top. You'll use a lot less Q-tips and be happy that you did :-)