Sexy Eyes in a Few Easy Steps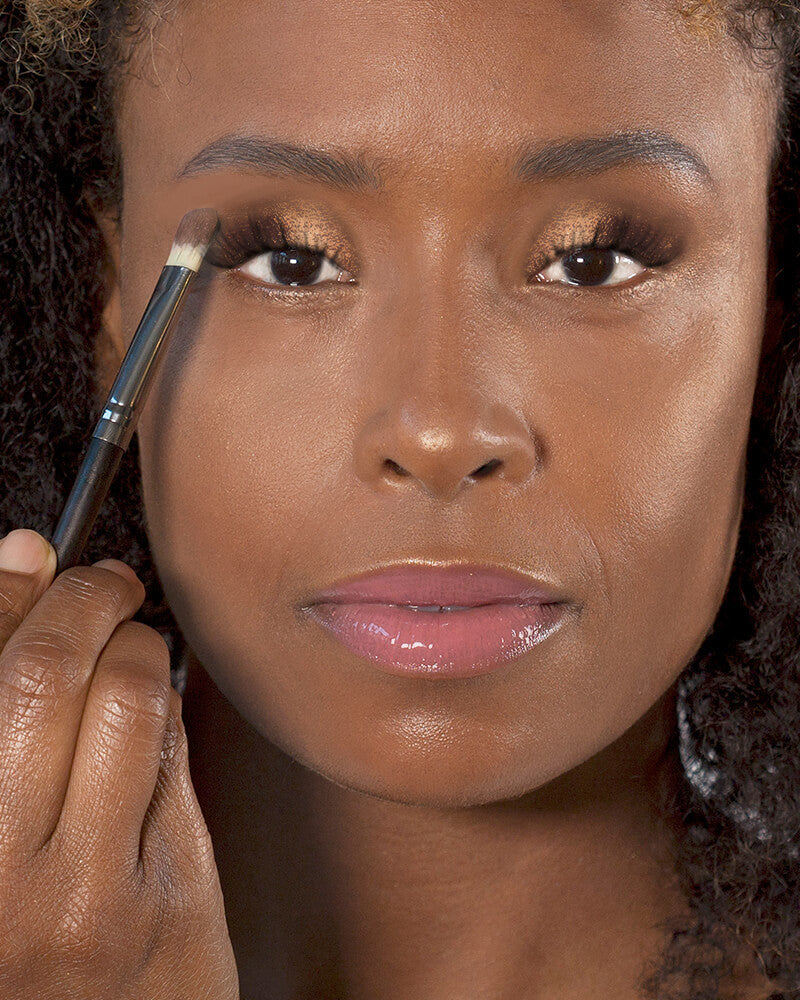 Want to create a sexy eye makeup look but don't have a clue where to start? Look no further. Creating the perfect sexy makeup look is much more simple than you think beauties. It can be done in a number of ways and in very few steps, as well. After mastering these simple tips, you'll have the confidence you need to create your sexiest looks ever and be ready to walk the sexy eye makeup walk too.
 1. Prime. The key to any eye look is priming your lids. If you have oily or oily-combo skin, you may have a hard time keeping eyeshadows on your lids because of oil build up throughout the day. The simple fix to this is to use an eyeshadow base or primer. Not only will doing this provide you all day coverage and give your eyeshadows a great base to sit on, it will also allow the colors you are using to blend much better, look more vibrant, and in turn, give you a sexy makeup look that lasts. For an extra tip: When applying anything to your eyes, you want to use the least amount of pressure, as the eye area is sensitive. Use your pinky or ring finger when applying your primer to the eye area. 
2. Apply your colors of choice. After applying your primer or base to the eye area, pick your colors of choice for your sexy eye look. For a sultry look, choose darker shades like onyx, dark brown, navy, or eggplant, and for a more flirty and fun look, go for a lighter or brighter shade like a teal or a pastel in a lavender or pale blue. Sweep your choice of color from the beginning of your lash line outwards. Based on what type of eyeshadow look you're going for, you can either create a fan-shaped or dome shaped look for your shadow (curved or pointed).
Pointed is especially good for making close-set eyes look farther apart. Start with a light hand and add your layers in stages over the initial color if you want to go darker. As a rule, always start light and build the color, because you can always go darker, but if you start too dark it's that much harder to go light. Remember to always blend and buff the color out so there are no harsh lines. The darkest part of the color should be at the outer crease of your eye and should get lighter as you go more towards the inner crease. Since the look is more of a sexy, dramatic style, you'll want to apply a highlighter or base shade in a light color directly under the brow bone and also to the inner corner to brighten up the look and draw even more attention to your eyes.

3. Apply mascara or lashes. When doing a look that calls for sexy, ALWAYS remember to curl your lashes before applying mascara. Do it once and you'll do it forever, because curling your lashes makes a world of a difference, especially if you're someone who has straight or short lashes. Apply a mascara that is extra-volumizing or lengthening, depending on which one you need more.
4. Apply Eyeliner. Your sexy eye look is not complete without eyeliner. Depending on how intense you've made your eyeshadow look is how you should determine whether to use a pencil, gel, or liquid liner and what type of liner look you should go for. A dramatic eyeshadow look usually calls for a more subdued liner look and vice versa.
To create a softer liner look, opt for a kohl liner so you can create a smudgy, smokey look. If your eye makeup look is done with a softer shadow application, use a pencil or liquid liner and create a sexy cat eye to compliment the color on your lids and let them stand out. To create a cat eye makeup look, extend your liner outwards and up where your lash line would naturally continue from your bottom lash line. Flick it and then bring it back down to connect with the line you've already created. Pro Tip: Still mastering your cat eyes? Try using a cat eyeliner stencil to complete this step.
5. Frame the eyes. To finish off your sexy eye look,you need to make everything around the eye look polished as well. Don't forget to groom your brows, fill them in if necessary, and apply a brow gel over finished brows to set your brow look. Pro Tip:If you don't want to invest in a brow gel, you can use a clear mascara instead to set brows but make sure to wipe the wand clean to avoid transferring color to your lashes.
Another step for framing the eyes is to apply a highlighter. Apply a highlighter under the brow bone, to the inner corner of your eyes and on the tops of your cheekbones. Applying highlighter along the tops of your cheekbones brightens your face altogether. As a rule less is more when it comes to applying highlighter to your face so build the color slowly. You don't want to put too much shimmer on your face and have that competing with the rest of your makeup and eyes.