Get Cara Delevingne's Cat Eye Makeup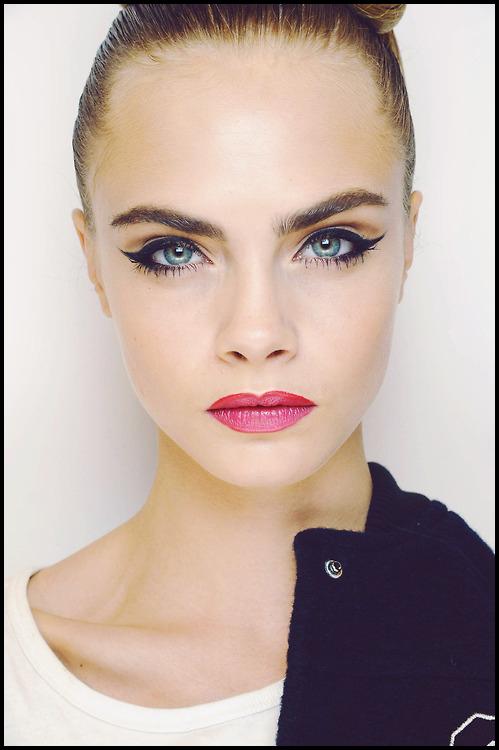 Cara Delevingne may be famous and successful for her modeling career, but it seems as though she is almost as famous for her power brows and her variations on the ever popular cat eye makeup look that so many of us love and adore. What's not to love, it's sexy, looks amazing, gets you plenty of attention, not to mention the amount of men who happen to love this look, and it's a makeup style that has been around ever since the time of Cleopatra, who let's face it is the one who can pretty much take all of the credit for it's popularity. 
We came across this photo of Cara rocking an awesome cat eyeliner look that we had to share. The thing that is the most different than your basic cat eyeliner look is that the points have a slight curl which is kind of sexy. The eyeliner is also very vivid in color which has us thinking it was probably created using a gel eyeliner or liquid eyeliner. If you're thinking about doing Cara's eyeliner look on yourself and we hope you are, here are a few tips to make them look purrfect. 
1. Start by filling in your brows using our Beautiful Brows Palette choosing the shades that best suit your brow color. If your brows are dark start with a color that is slightly lighter and using short strokes fill in any area's that are sparse. If your brows hairs are fair you can use your brow stencils to help with the shape and fill in with color. Set with a clear mascara or brow gel to keep them in place all day.
2. To do your cat eye makeup take your cat eyeliner stencil, and place it over the eye making sure the edge of cat eye shape is placed slightly away from lashline for a thicker line as seen here on Cara. Extend the point up at a slight angle for a more winged effect.
3. Create your cat eyeliner look by sweeping an onyx shadow over the cat eye stencil shape and remove.
4. Use the bottom liner stencil to create your bottom liner look. Place slightly below lashline for a thicker line as seen here on Cara. Make sure the bottom and top liner meet at the outer point of cat eye. 

5. Using our Long Wearing Gel Eyeliner in Onyx and Angled Eyeliner Brush go over the cat eye shape and carefully fill in making sure to wing out the ends outwards and upwards.
6. Finish the look with our Glamour Me Lengthening Mascara and Pro Lash Curl Set.