The Difference Between Eyeshadow Textures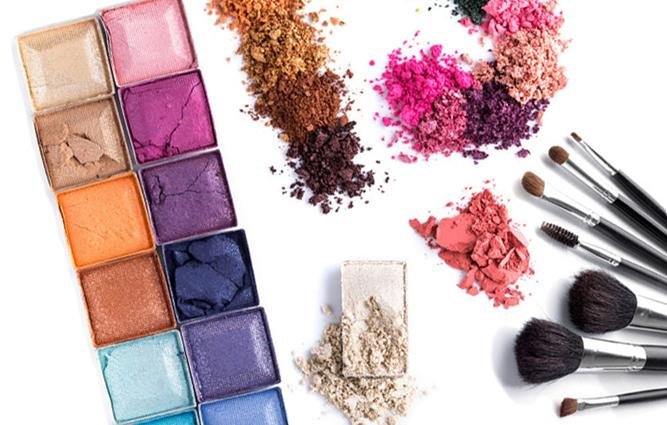 When it comes to applying eye makeup there are so many colors, formulas and finishes available that it can literally make your head spin. But, is it not the best thing ever to have so many amazing shades to choose from when it comes to makeup?  Especially if you're into beauty and makeup products as much as we are   You will never have to worry about finding the perfect color, shade, or texture. Speaking of texture, how many gals out there need a little help with the differences in choosing an eyeshadow texture?  Remember, not all eyeshadow textures were created equal. With that in mind, they are also not created for every skin type, tone or eye color or eye shape.
If you're not yet caught up on the latest makeup trends, here is the low down on eyeshadow. In addition to deciding on an eyeshadow color, you'll also need to consider an eyeshadow texture as well. Shimmer, satin, iridescent, or cream are a few textures of eyeshadow for you to choose from and we're here to help explain the differences and which ones will make your eyes look the best.
Depending on the look you want to create will also lend a hand in your decision making. For instance, say you want to create a simple day look, the type of eyeshadow texture you use might not be that shimmery one you picked.  The right eyeshadow texture might be a matte. For a more sexy and glammed out evening look that shimmery eyeshadow you wanted to choose for day would be perfect for nighttime and if you choose a color in the same hue as the matte it can be applied directly on top to transition your eye makeup look from day to night. This will all come together once you have all of your colors in front of you and are ready to create your look.
So let's begin by breaking down the eyeshadow textures into specific types.  There are 6 main types of eyeshadow textures which include:  Matte, Satin, Mineral, Cream, Shimmer (iridescent), and Metallic textured eyeshadows.
MATTE TEXTURED:
Matte textured eyeshadows work best when trying to achieve a very simple and natural eye makeup look. It's a safe choice for eyeshadow texture and can help to reshape and define your eyes because most matte eyeshadows have more pigmented color. However, be advised that they can sometimes be difficult to blend because of this fact. Don't let this stop you though, just be aware that some cosmetic manufacturers make matte shadows this way which tends to make it a little more work to blend your eyeshadow to perfection. If you are able to check out a tester before purchasing we recommend that you do. The easier the color is to pick up onto your fingers the easier it will be to apply.
If you're "Type A" like me then it will add just a little more time to your makeup routine. No biggie…the good news is that once you have figured out how to avoid this from happening, it is smooth sailing from there on in. Tools to have on hand are a good blending sponge to clean up and blend the areas that aren't up to your perfection par, and a few Q-tips and eye makeup remover standing by for fallout.
SATIN TEXTURED:
Satin Textured eyeshadows are a combination of matte textured and shimmer textured.   The fact that they are a little bit shinier than matte eyeshadows yet not nearly as shiny as shimmer makes them easier to apply. We love them because they look great and blend beautifully on all skin types. Perfect for a simple, yet feminine look or for a night out with the girls or your favorite guy.
MINERAL TEXTURED:
Mineral textured eyeshadows can last a very long time and you only need a little when applying this type of eyeshadow. It is very silky and light to the touch and goes on your skin smoothly.  Mineral textured eyeshadows have A LOT OF COLOR…This is why it lasts a long time:) Don't be afraid to wear mineral eyeshadows even though they might be a little tricky to get use to at first. Just remember to tap your eyeshadow brush first before applying as they do seem to grab a bit more color. Once you have it under control we promise you'll love how your eyes look and your color will last for hours. Minimal touch ups may be required. Great for all skin types.
CREAM TEXTURED:
Now this is a texture of eyeshadow that is very lightweight with a skin-like feel to it. It will go on to your eyes easily without creasing and has a fabulous staying power. The creamed textured shadows also come in shimmers. The solid colors may need a few layers applied to the lids to increase the intensity, especially if it's a lighter shade. Unless the formula dries to a matte finish we don't usually suggest cream textured eyeshadows for mature skin since it has the tendency to sink into your creases. If you do wear, we recommend setting the cream with a translucent powder to prevent this. Also, if your lids tends to be shiny you might find that your cream shadow does a disappearing act in just a short time. If this should happen we suggest applying an eyeshadow base prior to adding your cream shadow.
SHIMMER TEXTURED:
We just love shimmer textured eyeshadows!  They have a subtle sheen with just the right amount of sparkle to make your eyes look great. You can mix them with all textured shadows for a definite "wow factor" look. Especially wonderful for night time when there is less light and wearing more eyeshadow for a stronger look is totally appropriate without looking over done. Shimmer textured eyeshadows offer great sheer coverage without sinking into your creases or fine lines and can also be layered to create a richer, more vibrant finish. This also makes shimmer shadows ideal for more mature skin. Use the lighter shimmer shades for highlighting the recessed part of your eyelids and for a more dramatic look apply the darker shimmer shades softly in the crease to contour and define the eye.
FROST TEXTURED:
Although "frosted" textured eyeshadows get a bad rap and remind some of us of the 70's, they do serve a purpose in the makeup world if you learn to use them on your eyes correctly.  Frosted textured shadows are often fun pastel shades more geared towards younger gals with younger skin. They tend to give more of an opaque coverage with a white or silver sparkle. Frosted shadows are known for their "sinking" effect so as stated previously, us more mature gals might want to let the young gals have this eyeshadow texture all to themselves…Ha!