The Do's and Don'ts of Body Contouring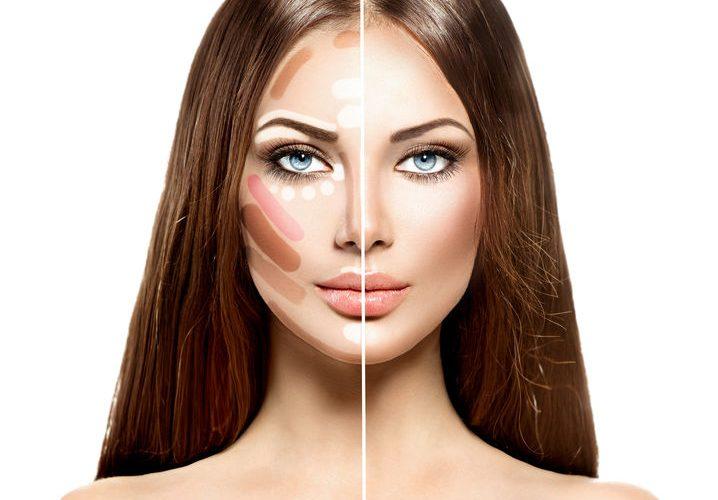 Contouring is definitely the beauty buzzword of the moment, but did you know it's not just for the face? You can contour specific parts of your body to create a range of effects. We hope you already adore the body you have, but we also understand the desire to see more definition or more pronounced cleavage for the night. It's your low cost, safe and temporary alternative to getting work done so you can really shine at photoshoots and events. Don't you love having options? Embrace your bod, take care of it the best you can and let contouring finish the job from time to time.
These do's and don'ts will simplify the process and bring about stunning and realistic results.
Do! Choose Wisely.
Body contouring isn't the easiest skill – think practically. You need to apply a healthy amount of makeup in order to properly achieve your look so the easiest body parts to contour are your neck, cleavage and clavicles.
Quickly enhance your natural features for startlingly beautiful results. You'll want to consider body contouring for special events such as weddings, galas or photo session preps. It's the trick that will transform you for costume parties, cosplay and, truthfully, anytime you want to dress up.
Don't! Risk Your Wardrobe.
Again, contouring requires quite a bit of makeup so you don't want to wear clothing that will fall victim to your routine. Choose your fabrics carefully so you can relax and look beautiful without obsessing over your outfit all night. You don't want a temporary look to become an expensive mistake.
Do! Follow Your Natural Lines.
The only way to create an effect that looks natural is to heed Mother Nature. This means contouring with the natural curves and creases of your anatomy as your guide. This is why, twins aside, no two people would be using the exact same strokes in their techniques. Depending on your body, you may also be contouring lightly or a little more dramatic.
Don't! Get Discouraged.
Body contouring requires serious skill and you're going to make lots of mistakes. Be patient and practice often.
Do! Use the Proper Tools.
There are makeup brushes designed specifically for contouring which will really enhance your results. Stick with the recommended tools of trade. Save your smaller contour brushes for your face and use larger models for your body work. This will give you a much more realistic look. This is a tip we love by Katie Quinn, a makeup artist specializing in the art of body makeup who shared this pointer in InStyle Magazine.
Do!
Choose Product Wisely.
Cream product tends to look more natural whereas powder formulas last longer. There are makeup lines/collections available that were designed specifically for contouring so these will be your best bets for success.
Color requires a little more thought. Nick Barose, a celebrity makeup artist, recommends the following: taupe hues for fair skin, bronze-based colors of varying intensities for medium skin and highlighting and copper hues for darker skin.
Don't!
Contour from Head to Toe.
A little definition goes a long way. You don't want to contour several different parts of your body at once. All of your hard work will be for nothing as the effect loses its authenticity. Choose tonight's areas for contouring by considering your outfit, the occasion and exposed areas of your body.
Do! Blend blend blend!
Blending is one of the most crucial elements of any makeup routine from a smoldering, smokey eye to enhancing your décolletage. Blending well is what will soften lines to create a natural effect that is more about your overall look, rather than bringing attention to the fact that you've contoured. In fact, when contouring is done right, no one should notice!
Dont! Semi Permanently Contour.
Some beauty gurus suggest "semi permanent" contours for either the face or body. They achieve this by putting bronzing creams and self tanners on parts of their faces/bodies so they can save a few extra minutes in the morning. Unless you're a professional, or plan on wearing a full contour face and body ever day for weeks on end, then this is NOT for you! If you mess up, or want to change something after the fact….you'll have to sit tight and wait about one or two weeks. Trust us, wake up ten minutes earlier than you usually do, whip out a nice contour palette, grab your makeup sponge, and blend instead!
Do! Understand Each Contour.
Any area you enhance will serve a different purpose. Contoured clavicles will further define your collarbones for a super beautiful, slimming and elegant look. Another way to emphasize the feminine form is to contour your neck to make it even longer and leaner. It will create the appearance of a more defined jawline. A graceful, swan-like silhouette can be yours in minutes.
For a buff and toned look, bring your focus to your abs. Following the natural lines of your abdominal muscles and biceps, contour for greater definition. You'll look like you live at the gym!
Finally, who doesn't want more pronounced cleavage? It's one of the easier areas to define and it can completely change your look in a cleavage-baring gown. Cleavage contour's will leave you saying "Eye's up here boys!" all night long!