How to Maintain a Clean Makeup Routine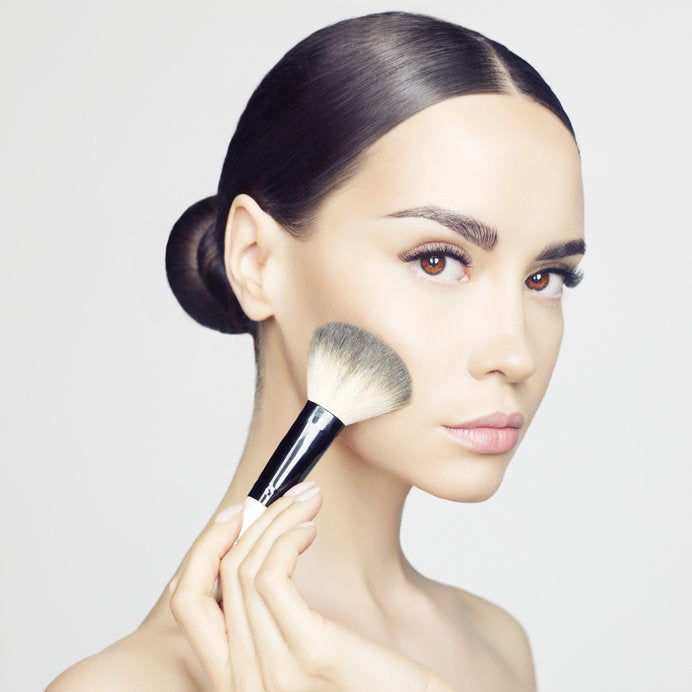 Makeup is only fun when we keep things clean. Here's everything you need to know: from protecting a freshly made up face to safeguarding products and tools from bacteria. Embrace these tips as your hot new habits!
1. Clean Your Makeup Brushes.
Dirty makeup brushes will ruin your routine in two ways:
1) You'll mess up perfectly good blending opportunities with deposits of old product
2) You'll run the risk for breakouts, blemishes and serious infections.
Say goodbye to the thought of these icky possibilities with a proper brush cleaning practice!
Brushes can be washed by using baby shampoo and lukewarm water but an even easier option is to buy a brush cleanser from a makeup brand. It's a one step fix and they dry faster. Clean brushes between uses of different colors to get a consistent look every time. When it comes to sanitation, renowned makeup artist Bobbi Brown recommends weekly cleanings for brushes for your base, while all other brushes will suffice at once a month.
Replace makeup sponges if your skin is starting to suffer (i.e. breakouts), if it's falling apart or it's been three months.
2. Sanitize Your Tools.
Don't forget to clean tools like spatulas and eyelash curlers. And those tiny pads on your curler? They should be cleaned on a weekly basis and replaced every few months.
3. Stop Sharing.
Never share your eye makeup with anyone else and sanitize eye tools (like lash curlers) before and after sharing with a friend.
4. Refresh Your Eyeliner.
Eyeliner pencils should be sharpened after each use so you have a fresh, clean layer to work with. This is a move against bacteria as well as your method to prep the tool for the smoothest application. 
5. Watch the Clock.
Expired cosmetics are a major makeup no-no. Heed the recommended use times for all of your products and toss anything that starts to get strange – even if it's still in its "prime time". Old makeup can lead to explosions of bacteria, skin blemishes and breakouts. Your makeup will also look a lot better if the product is still fresh. 
6. Practice Good Hygiene.
Dirty hands don't belong near your face. Always wash your hands before you start your makeup routine. Have you been sick recently? Remove the top layer of eyeshadow in your palette to access a fresh layer (the same applies if you've loaned it to a friend). In the case of more severe bouts of illness, we recommend you replace your mascara, liquid eye liner, lip balms and glosses to avoid reinfection. Many boast anti-microbial properties but it's better to err on the safe side.
And regardless of health, it's a great idea to remove a layer of your lipstick every now and then. You'll have access to fresh and super clean product!
7. Maintain Clean Storage.
Clean your makeup bags and cases regularly. These spaces are typically dark and enclosed, excellent breeding grounds for bacteria. There's no use in cleaning your makeup brushes if you store them in dirty places.
8. Avoid Messy Makeup.
Eye makeup lovers, the essential rule of thumb is to craft those smokey eyes and other looks before you do the rest of your makeup – including your base. You know the story. You're flustered and running late because of a few stray crumbs of black eyeshadow that wreaked havoc on your face. It's a moment we can do without.
Your solution? Keep a stash of cleaning products handy – tissues, makeup remover wipes or solution and cotton swabs. Cover your outfit or do your makeup before getting dressed. Do the eyes first, followed by wiping away mistakes and stray product. Do the rest of your makeup and confidently head out the door (fabulous and on time).
9. Paint with Precision.
Eye makeup blunders abound and they can cause frustrating domino effects. You can mess up a perfectly blended shadow while clearing an unsuccessful attempt at a cat eye or vice versa. To continually get the look you crave, start using eye makeup stencils. Stencils are quick and simple to use while keeping messy eye makeup at bay. Using easy instructions, you can achieve professional and clean results. You can buy stencils for professional cat eyes, smokey eyes and top and bottom liner.
10. Choose Products with Staying Power.
There are so many threats to good eye makeup including, breakups, rain, wind and oily skin! Respect the weather or occasion by opting for waterproof or long wear makeup to keep your look in place.
Find an effective waterproof eye makeup remover for easy cleansing.