How to Choose the Perfect Shade for Your Foundation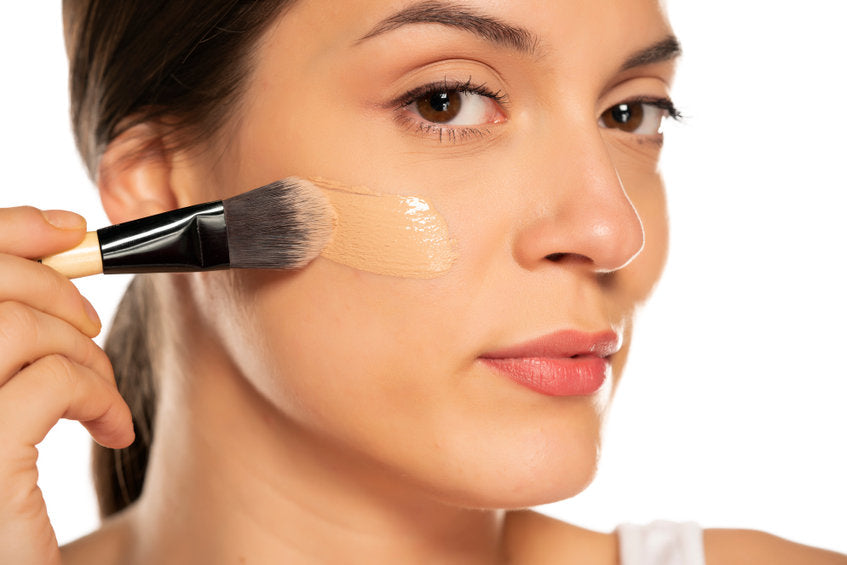 The quality of your foundation impacts your entire look. Before you start to think about the best application methods and techniques, master the basics: find the perfect hue for your face. Use this tried-and-true advice as well as a few tips from some of the biggest makeup artists in the business to bring your most flawless face forward. Happy blending!
1. Test It Out.
Don't shop for foundation online unless you're:
a) purchasing a reorder of a product you already use or
b) ordering samples before you make your final selection.
It's not at all as simple as glancing at a bottle and taking your pick. In fact with some brands, you may even need to blend more than one foundation color in order for it to be true to your skin! This is actually the case more often than not, and the reason why you see so many people wearing the wrong shades of foundation.
Shopping for a base isn't too dissimilar from buying clothes off the rack – sometimes tailoring can't be avoided! If you do fall between a mix of colors with a specific brand, visit their counter for a lesson on how to mix the shades you need or to order a custom-blended formula. Custom blend details are typically stored in the beauty brand's logs so you can always pick up exactly the color you need. 
2. Discover Your Skin Tones.
Do you have cool or warm skin tones? Foundation isn't just about the color of your skin but the undertones of your epidermis as well. Everyone's complexions are so different because of varying percentages of warm and cool tones in the assorted colors such as yellows and reds. Many darker-skinned women will find the greater range of undertones in their complexions to be somewhat of a challenge. Many makeup brands offer products resulting in a pale, gray hue. Dior celebrity makeup artist, Ashunta, advises women with darker skin to shop for formulas with very little titanium dioxide in order to avoid this ashy effect.
It's a lot easier to shop for foundation if you have an even complexion. If you don't, all is not lost, there are just a few more points to consider!
3. Use Your Body.
Your foundation should match up with the colors of your neck, shoulders and the rest of your upper body. Celebrity makeup artist, Lisa Eldridge, advises you find the common colors between these areas and the colors in your face to find the right hue.
Another celebrity makeup artist, Charlotte Tilbury, also makes the face-body connection. She advises swiping a line of foundation from your cheek down to your neck to determine if it's the right shade linking face to body or not. 
4. Use Daylight.
Beauty counter lighting is not going to give you an accurate peek into your actual makeup color. The lighting is often harsh and fluorescent. Ask your beauty advisor if you may step outside to see your face there or visit a beauty counter with lighting that mimics daylight. No matter how perfect it looks, if isn't how you'll look in the day, it's not going to do you much good.
5. Change Colors from Season to Season.
Most of us don't have the same color in the winter as we do in the summer. If you think the makeup you buy today will still work for you after your vacation tan, think again. One color can't do the job year-round. Pay attention to color fluctuations and shop accordingly.
6. Double Check.
If the small area of application isn't enough to convince you, you can have your face made up entirely with the foundation, go outside to see it in the light and wipe it off so your face may be made up with the second color of interest to see which works best. This is an especially useful tactic if you're ready to spend big bucks for a designer formulation. Don't waste your money and time on chance. Leave with the full knowledge you've made the right choice.
7. Use Only as Needed.
Not everyone will need to use foundation all over their entire faces and it should only be worn as needed. A lot of people have darker, more even complexions on their foreheads and that allows them to skip foundation there. Your goal is to target any redness, dark under eye circles, blemishes and anything else that "shouldn't be there".
With these tips and a little practice, you can expertly select the right shade, every time. It's worth taking the time to learn the process. Improperly matched foundation can only do you a huge disservice by bringing attention to your look for all of the wrong reasons. On the flip side, the right color will totally enhance your overall beauty.
Draw on a perfect cat eye, fill in your brows, swipe on some blush and you're off.