Top 5 Makeup Mistakes to Avoid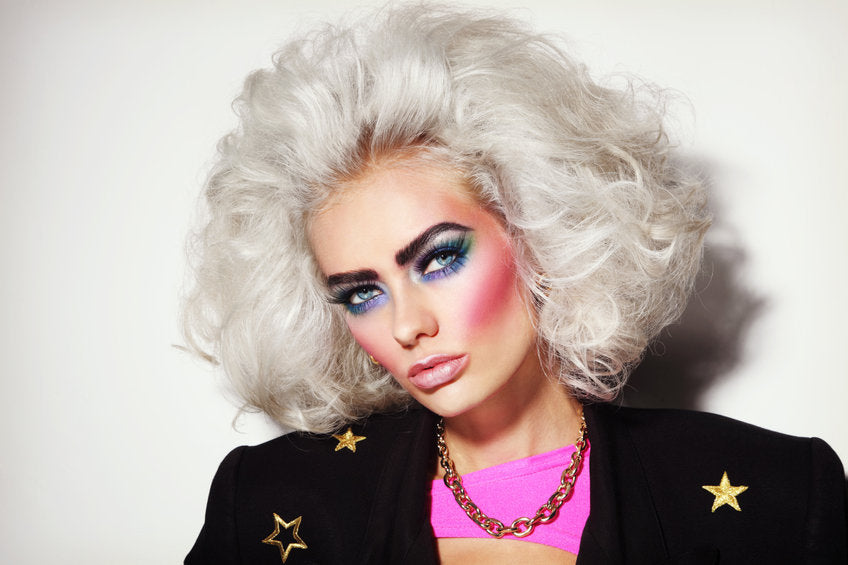 It happens to the best of us: rushing out the door in the morning only to find we've applied eyeliner to just one of our eyes, or how about foundation that is off by a few shades, or a tanning gel that doesn't mix with your bronzing powder. Now that's a favorite. But seriously though, you may not even realize you're makeup mishap until someone points it out to you. Hopefully not your five year old, but don't feel bad, some of the biggest celebrities have even been caught and they were on the red carpet. Yikes!
Just recently Angelina Jolie's artist got a little too busy with the HD translucent powder and when the camera's started rolling it was all they could talk about. Yikes! The good news is they are all easy to fix and with the help of these simple tips, you can right all of the wrongs easily and be on your way to becoming your own makeup guru.
1. Wearing the wrong shade of foundation. If there ever was a makeup mistake, it's this one. At one point in our lives, we've all done it. Whether it's from guesstimating on which shade to choose at the makeup counter or that we thought we were tanner than we actually were. Both of which are possible by the way. Beauty stores like Sephora or Ulta offer color matching so that you don't end up with your face a different color than the rest of your body. Many makeup chains such as these and even department stores will allow you to test out the products on yourself before buying, and even offer samples. Stores like Target where that may not be possible is where you might have to guess, but if the shade isn't a good match you can return it and try again.
Our best advice for selecting the right color is to apply it in-store either by one of the artists or yourself and then with a pocket mirror in hand, walk outside in natural lighting to see how it really looks and if it matches the color of your neck. If you can't step outside, as a rule, use your arm (not your hand) to color match. Your hands can sometimes be a little too pale to be used as a foundation color, while your arms should be just the right shade to match. If the color is right it should be flush with your jawline and neck with no lines of demarcations. Using a good foundation brush to apply your color is one way to ensure a perfect application.
2. Wearing too much blush and bronzer. Bronzer and blush either worn together or alone are usually never a bad thing unless you've applied too much and if you think it's too much, it's probably is. Also, make sure the blush you're wearing matches your skin tone. For fair skin tones, choose a peach shade or a soft pink, but in some cases a bright pink is actually quite pretty too. Darker skin tones should go for more corals or dark plum/berry colors. With bronzers, especially when combined with a blush try to choose one with less shimmer since a little goes a way.
Pro Tip: use a light hand with any face products in a powder formula. You want to build the color and not pile it on. If you think you've applied too much take a fluffy powder brush and soften the color.
3. Using too much powder. Ohhh the dreaded white mask of shame! This is something that has definitely happened to the best of us. Little do many of us know is that while we subtly re-apply our powder throughout the day to take down the shine from our faces, it may be creating a white sheen over our faces that can be even more prominent in flash photography, and while powder may be drying up the oils, it's also revealing lines and wrinkles.
Applying powder over wrinkles is like putting a magnifying glass over the lines. Instead, if you have to use a powder, use a mineralized one to avoid both problems. At some point during the day to avoid the powder mask you may want to switch to blotting papers for taking down the shine. To use simply pull out a sheet and press lightly over the areas where your face is shiny. This is usually in the T-zone area. 
4. Over plucking your eyebrows. Don't do it. Ahhh! This may be one of the biggest faux pas yet but tweezing your eyebrows as a teen has become almost a beauty rite of passage. The only problem is that a lot of the times they don't grow back and you're left with barely there brows or brows that are very sparse. Right now thanks to super models like Cara Delevingne it's in style to have big, full natural brows so don't be afraid to let them grow out a little and instead work on filling them in correctly.
To fill them in: For the most natural brows choose a color that is slightly lighter than your brow hair. Follow the natural shape of your brows depositing more color to the arch and softening the color as you move towards either end of your brow. You want to feather the color using short strokes for the most natural look. For brows that aren't in need of any filling, tweeze any hairs that are outside the natural shape of your brows and carefully trim any hairs that are longer than the rest.  If you have naturally thick eyebrows only remove the hairs that are outside of their natural shape and set with a brow gel or clear mascara to keep them in place all day.
 Another great tip for brows that are growing in or need a little help with the shape is to use an eyebrow stencil. It's an instant gratification for anyone who has over tweezed or is just starting to groom their brows. Many come in sets of 4 or 5 so you have a few choices as far as shape. To use just place the stencil over your eyebrow and fill in with brow powder or an eyeshadow that is close to the color of your brows. Remove stencil and tweeze any hairs that are outside of your brows natural shape. They are also flexible so you can adjust them to fit your brow shape easily.
5. Not blending in your eyeshadows. This can be the difference between looking like someone who knows what they're doing and someone just starting out. It doesn't matter whether you're using an expensive shadow or not, if you don't blend the colors you'll never get the results you desire. This is particularly true of eye makeup looks such as a smokey eye. By not blending your shadows you stand the chance of eye makeup that looks harsh and unfinished. This is especially the case if you're wearing darker shadows. One way to avoid this is to have your staple eye makeup brushes. A blender brush is perfect for softening and blending color in the crease and can even be used for under the eyes.
Have you had enough beauties? We don't want to overwhelm you so we'll stop here for now but we've got loads more makeup tips coming your way. Remember, just knowing which beauty faux pas to avoid already puts you in the drivers seat so go ahead and experiment with new looks, enjoy the fun stuff like colored liner and bright eyeshadows, and as always, have fun.