WARNING: These Makeup Tips May Change Your Life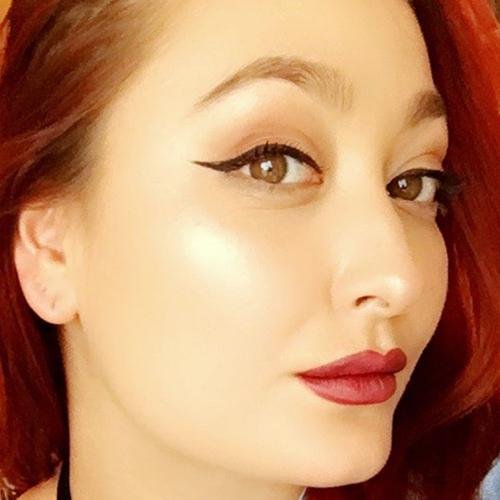 Caution: Your mind may be blown away after you've tried a few of these! You never know what things you have laying around the house that can change the way you think about your makeup routine. Products that you may not even know that can be used in multiple ways and through different techniques to best suit your own personal beauty needs.
1.  Say Yes To Priming. For whatever reasons a lot of us pass on primer as an unnecessary step before applying colors to the lids and since you can't technically see the primer after it's applied you may not think it's doing anything. But the difference is that after eight hours or longer of being out and about, hot weather especially, how your makeup stands up will definitely have an impact. If you're one of the lucky ones whose skin is oily to combination you'll probably want to prime your face for the added reassurance. You never know when heat and humidity can strike, are we right?
The primer creates a smooth foundation for applying your color as well as minimizing the pores, which is always a plus. By adding a primer to your eyelids you have the double benefit of longer lasting shadows and liner, and the color will appear more vibrant as well. Another trick is to coat your lashes in a lash primer first to make them more voluminous and lengthy after a full coat.
2. Use a white liner or shadow to make your eyes POP. By coating your eyelid with a white liner or white shadow before applying a colored shadow, the color of your shadow will become more vibrant and intense, since the color underneath it is lighter. Also, by adding a white liner in your waterline, (the inside of your bottom lashline) will also enhance colors worn on the lids, the brighter color like teal, and violet for sure.
3. Do you have a favorite mascara that you want to try and extend the life of? Simple. Add a few drops of water or saline solution (for contacts) to the tube and pump brush up and down until you feel the mascara loosen up. This should give you a few more uses out of it until you are able to replace. Keep in mind though not to overuse any of your makeup. Mascara in particular goes bad pretty fast and can be a swimming pool for bacteria if used past it's expiration date. As a rule, always make sure to throw out mascaras that have been used for over three months, just in case.
4. Have you ever gotten a makeup palette that had shades of pinks, reds and purples that you know you'll never use on your eyes? Well, problem solved. You can easily make those colors into your own custom lip colors by using either a lip balm, Vaseline or Aquaphor. Just mix the two together to get a balm like substance that's perfect for your lips. Make sure before you use anything on your lips that you're not allergic to it. Do a test strip on a part of your body to see if you have a reaction to the pigment or opt for jelly that is hypoallergenic.
5. Conceal under eye circles perfectly with the triangle technique. If you were looking in the mirror, the triangle should be upside down. (If you want to extend it more outwards, at the top of your cheekbones, this will create a more highlighted look). The tip of the triangle should fall on the cheekbone, right above where you would apply bronzer or blush. Once you have your concealer in a triangle shape, use a concealer brush or your fingers to tap in the color until it blends in with your skin tone or foundation.  
6. This is one trick you may not have heard of although a lot of brides sure have. Have some milk of magnesia lying around your house? If you do, you can use the magnesia over your moisturizer as a mattifier. This is the perfect fix for a shiny face and is a great alternative to mattifying powders that tend to leave a white sheen over the face when re-applied too often. Hence the reason why so many brides turn to this trick on their wedding day for their wedding makeup especially for all of those photo moments.
7. Another shine free face tip: make use of makeup setting sprays. Using a setting spray can really make a difference on how your makeup looks after a long, hot summer day. Setting sprays can be great if you're going for the waterproof makeup look to give extra assurance that your makeup won't slide off in those not so good weather conditions. It's also good to apply before going out for the night if you're going to be dancing and sweating, and perfect for events. You can dance your little heart out because your makeup won't move with this tip.
8. How do you create the perfect mascara look--one that doesn't smudge but is also voluminous and lengthening? Combine a waterproof mascara with a non-waterproof one. Waterproof mascara can pull lashes out and be hard to take off, period. Non-waterproof mascaras tend to smudge underneath the eyes after some time. But, by first applying a thin layer of non-waterproof or water base mascara and then applying a waterproof mascara over it, you get the perfect combination! Make sure the layers are very thin though, so it doesn't look clumpy when you're done.
9. Use the "slice" trick to get the perfect eyeliner shape. After applying your liner, take an angled eyeliner brush (synthetic works best) and dip into some makeup remover. "Slice" your liner by removing the color you don't want and creating it into the shape you do. Make sure to clean the brush in between each "slice" so as not to deposit the unwanted color somewhere else. Voila: perfect liner, lazy girl style J
10. Lastly, Aquaphor is one of those products that you probably always have lying around the house and don't realize how awesome it really is. The ultra-moisturizing lotion can be dabbed on the eyelids to make your eyes appear more awake. Another trick: Use it over filled-in brows to set the color completely. You can use your fingers to tap it lightly over your brows or dab it onto an eyebrow brush and lightly go over your brows, and of course it's an awesome lip balm. Probably one of the best for chapped lips. Pick up a travel size to keep in your bag. You'll be happy you did.