10 PRO Tips for A Sexy Smokey Eye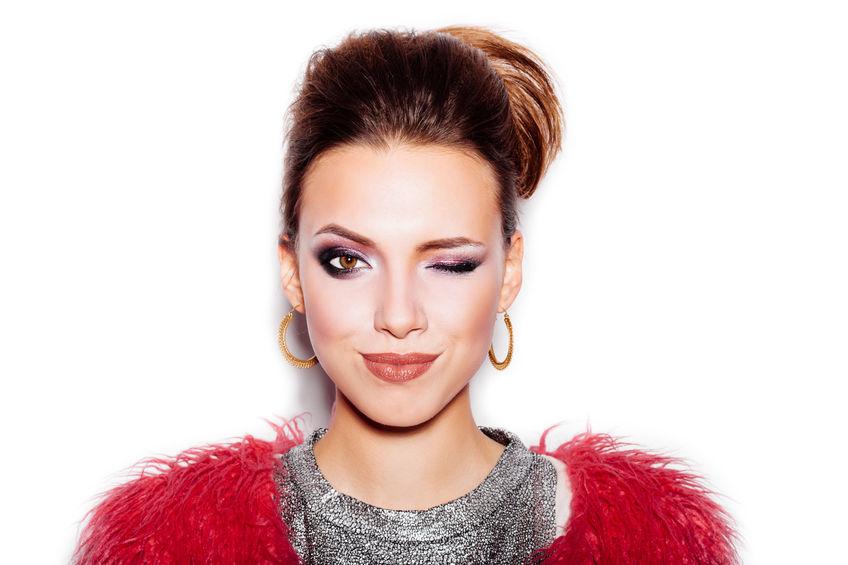 There may not be a more popular eye makeup look than the smokey eye. Not only does it look gorgeous when done correctly, it also screams sultriness and is perfect for any of your nighttime outings. Although some might be apprehensive about creating a smoked out eye look, it's a lot easier than it seems and with a few tips and tricks on how to do them under your belt, you'll be rockin' some gorgeous smokey eyes in no time.
1. Do your eyes first

This was hard for us to do at first too, but after years of fashion weeks and as many smokey eye looks behind us we can't say it enough. Adding your foundation first before beginning your eyes seems like the natural thing to start with, but for a flawless finish and smokey eyes you can be proud of, save the foundation and concealer for last. As careful as you might be when applying your eye color, eyeshadows loose or pressed tend to have fallout and if you've already gone ahead and put on your foundation and concealer you can be sure you'll be touching it up or cleaning it up at least a few times while doing your makeup. It's a lot easier to fix any mistakes or fallout you might have when you don't have a full face of makeup already done. Trust us on this one.

2. Add Primer To Your Lids
Not everyone primes, but if your lids tend to be shiny, priming your eyelids before adding color is an important step, especially when you're taking the time to create a beautiful smokey eye look. Primer creates a good foundation for layering your shadows and building color that lasts. Since you're going to be blending a lot while doing your smokey eyes, having a good base makes it that much easier. Another benefit to wearing a primer is no creasing, and who doesn't love that?
3. Find lots of different shades
If you're creating a gradient smokey eye look make sure to have several different colors on hand from the same color family to complete the look. For example, if you're doing a purple smokey eye, you're going to want at least three variations of purple (a dark, medium and light) to complete the look. You'll also always want to have a highlighter or base shade on hand for highlighting under the brow bone and in the inner crease of eyes, also known as the "v".
4. Use liner
If you're going for the total smokey eye glam look we recommend adding a khol liner to it. After creating the perfect gradient of colors on your lid, apply your kohl liner along the base of your lashline and smudge it. This creates definition to the lids and will give you that smoldering eye look seen in so many magazines. You can do the same underneath the eyes and set with a coordinating powder shadow so that any bleeding of the liner will rest on the powder shadow.
5. Invest in some brushes
To take your eyeshadow looks up a notch, treat yourself to a few good makeup brushes. The basics like an eyeshadow brush, blender brush, highlighter/shader and eyeliner are all a good place to start. Since the look is all about blending, you're going to want brushes that will perform well and give you professional results.
6. Blend baby blend
The most important pro tip for eyes, smokey especially, is to blend, and then blend again. If you don't blend out your smokey eyes your colors will look harsh and unpolished. If you're creating a gradient look and you want your colors to be seamless blending is key. To blend out the colors, create small circles with a fluffy brush until all harsh lines are gone. Either use a different fluffy brush for each color, or cleaning the brush after each color is applied to the eye to make sure you're not blending a color with a shadow you don't want it to be blended with. For the crease you can use the "windshield wiper effect" which simply means once your blender brush is planted in the crease you simply move it back and forth (side to side) without lifting it as you blend the color.
7. Highlight
When you're doing a dark smokey eye, highlighting the brow bone is key to getting that seamless finish. You also don't want to place your dark shadow too close to your brow bone as that can make the look too harsh. Choose a neutral color that is a shade or two lighter than your skin color. If you have pink undertones, try a highlighter with yellow undertones and vice versa.
8. Don't forget your waterline

This step can make such a difference especially for a smokey eye. The more classic look is to apply a black pencil liner in your waterline, but if your eyes are small this may make them look smaller. Instead swap the black out for a beige pencil liner. You'll notice immediately how it opens your eyes and makes the whites even whiter. Depending on what colors you've applied to your eyelids, a violet, teal, turquoise, and even pastel pencil liner are all options for adding color to the waterline.
9. Mascara is a must
No eye makeup look, let alone a sultry, smokey eye is really complete without mascara. For the best application, start at the root of your lashes and wiggle upwards to build volume up. As a rule, if you're going to apply mascara to your bottom lashes, keep it to a minimum, as too much can get a little clumpy or spidery. If you are going to add some to your bottom lashes, it's better to use a waterproof one, as eyes tend to water throughout the day and wearing anything under your eye is naturally prone to smudges. 
Pro Tip: to protect your lashes add a coat of water-based mascara first and then go over with your waterproof.
10. Keep the rest of your face natural

As for the rest of your makeup, keep it on the more neutral side, but don't leave anything completely out. Even if you intend to do a dramatic smokey eye you'll do the blush, bronzer or both and of course lips, but a softer version since your eyes will be the star attraction. Apply a little bronzer, a nice pink neutral blush and a nude lip gloss or lip color to finish the look. Just remember to use a light hand when it comes to your blush and bronzer.