3 Simple Steps for How to Do Smokey Eyes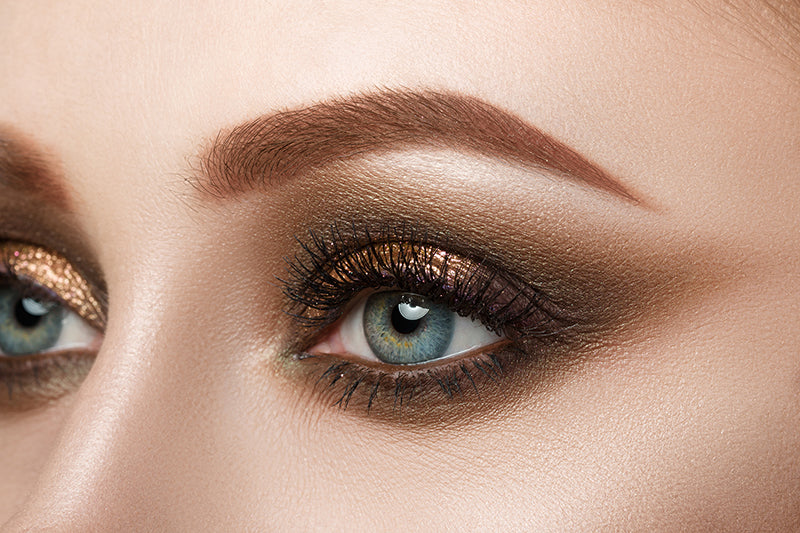 The most in-your-face of all the eye makeup trends this spring is the smokey eye look in bright colors like Violet, bright blue, and Teal and with eyes as gorgeous as this it leaves you needing little other makeup. The good news is, how to do a smokey eye using colors like this is not as intimidating as you think. You just need the right products as in eye shadows and liners, some good brushes for applying your color and you're half way there to fabulous.
To get your bright smokey eyes begin by choosing an eye shadow or eye shadows that you like and have worn before or would like to try, the color seen here is actually two shadows, one is a matte lilac that was applied first and the other a deep violet shimmer that we layered over the lighter color to create depth since the colors are in the same hue. If you're feeling creative which we hope you are, you can use a teal shadow as your second color to mix with the violet/purple shadow. The contrast is actually quite beautiful and very smokey eye appropriate for spring.
Once you have your colors picked out Beth suggests starting with two purple tones and brushing the darker shade over the lighter to build intensity from the lash line to just above the crease. "You don't want to go too far up the eyelids since the color will bleed upward naturally," says Bender.
Next, grab a gel eyeliner that's slightly deeper than the shadow, and starting at the inner corners draw a line just above the upper lashes and slightly past the outer eye. Do the same below the lower lashes.
Pro Tip: if your eyes are smaller in size stop your eyeliner mid-point from outer corner in or leave out if you aren't the under eye lining type. Follow with a black kohl eyeliner (water proof if you have) and apply to the waterline of the lower lashes. Add a coat of your blackest mascara, comb through lashes and apply a second coat. Because the eyes for this makeup look are the focal point, a neutral lip gloss in a nude or soft pink would be a good choice.
For this look we started by adding a cream shadow also in violet to the lid first and then adding our shadows but this is completely optional. Check out Foiled Shadows in Show Off and Sway.