10 Top Celebrity Cat Eyeliner Looks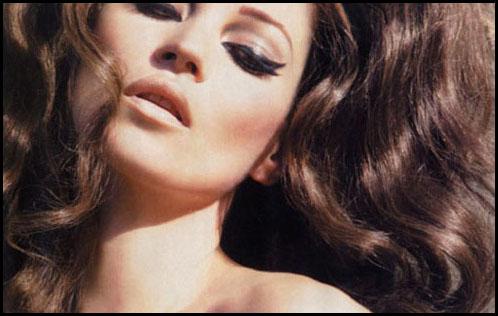 Beauty trends change from season to season but the one look that never goes out of style is cat eye makeup. You can be sure that with every red carpet event there will be a handful of celebrities who will be wearing one and with good reason, like a cat's elongated eyes, by adding eyeliner in the same fashion you can add intensity while giving your eyes an instant eye-lift. It's a style that continues to inspire even the most skilled makeup artists and looks beautiful no matter the thickness, length or color. Many celebrities have adorned the famous feline look but only a few have made it to our Top 10 celebrity list.
Angelina Jolie
You know what they say, "if it ain't broke" and that is totally true of Angelina and her cat eyeliner which has followed her from red carpet to red carpet. It's an eye makeup look that never lets her down and paired with some striking lashes and a neutral lip gloss is the perfect eye makeup look. 
Adele
When it comes to her cat eyeliner Adele does not mess around. Thick, dramatic liner that may look intimidating to some but with a little practice is easy to master. Beauty Tip: To create Adele's signature cat eyeliner look opt for a gel eyeliner instead of a shadow and do it in layers to create the desired thickness. Follow the natural curve of your eyelid and line as closely as possible to the lashline. Repeat this step over the previous liner until you have the desired thickness and length. 
Lauren Conrad
Her classic cat eye makeup has reached almost the same celebrity status as she has and women everywhere seem very interested in wanting to know the secret behind her cat eyeliner look. The beauty word around town is that she uses a liquid liner to do her eyes. Beauty Tip: use a pencil liner in a lighter shade first to create the shape you want and then fill in with your liquid liner. Less clean up involved and better results.

Scarlett Johansson
Even if you don't like the look of cat eyeliner this picture might just change your mind. Scarlett's winged eyeliner is dramatic and extremely effective. Often complimented with perfectly groomed brows and a beautiful red lip color for a makeup look that is a big YES in our beauty book!
Kate Moss
Kate the Great as we like to call her is one of our favorite cat eye makeup celebs. She is also one of the first celebrities to ever use our Cat Eye Makeup Stencil. Her sexy winged eyeliner look is a key part of her signature rock-chick style and her bestie, celebrity makeup artist Charlotte Tilbury is responsible for creating many of her sexy eye makeup looks.
Dita Von Teese
When we look at Dita's black eyeliner look we can't help but think of femme fatales like Rita Hayworth and Jayne Mansfield. An Old Hollywood-inspired winged black liner that is gorgeous and timeless. 
Mila Kunis 
What can we say about Mila Kunis that hasn't already been said about her eye makeup. Her eyes are gorgeous with or without makeup and her signature smokey-cat eye duo is one that we always look forward to seeing. Blended to perfection using a combination of metallic and matte shadows for one smokin' hot pair of eyes. Want them!
Cara Delevingne
Who isn't talking about Cara Delevingne? Between her eyebrows and cat eyeliner this is one hot super model who has attracted a huge following on these two features alone. Cat eyeliner was definitely made for this face and we love it :-)
Rachel Bilson
Before there was a Cara or Katy there was Rachel and everyone wanted to copy her famous cat eyeliner look. During her OC day's there was even a slight obsession with her cat eyeliner. Today you can still find Rachel around town with the same cat eye makeup and still looking fabulous.
Katy Perry
She may like smokey eyes but she loooves her cat eyeliner. Her long time makeup artist Jake Bailey makes sure to always come prepared since this is one of her most requested eye makeup looks to wear. So popular in fact that many of her fans can tell it's her just from her cat eyeliner. Now that's devotion!