12 Instagram Makeup Tips That Deserve Your Attention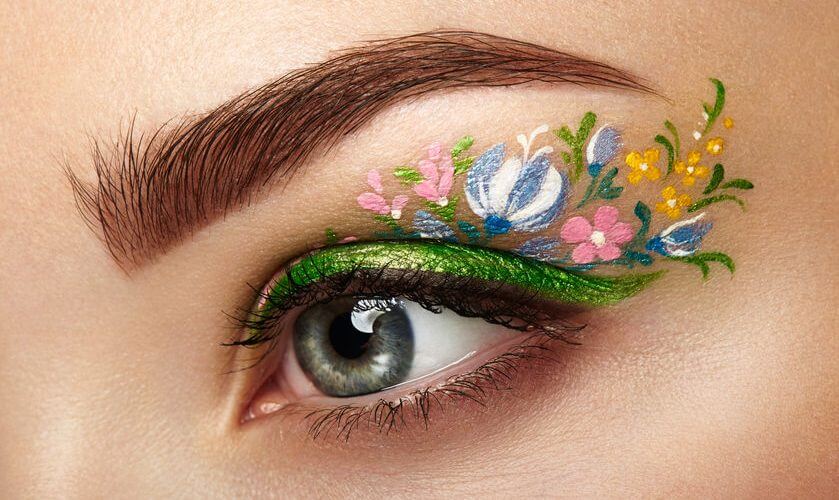 Social media really is the wild, wild, west of beauty advice and makeup hacks: the good, the bad and the ugly. Here are 12 beauty tips from Instagram that are safe, effective and can really upgrade your beauty looks for the spring.
1. Swap Your Primer for Concealer. 
You'll amplify the color of your eyeshadow and make it last much longer too when use your concealer as a primer on your lids. The concealer will soak up the pigment in the eyeshadow for color that really pops with rich hues. This will also help it stay in place.
2. Make Glossy Lipstick Look Matte.
Start with moisturized, exfoliated lips and then apply some concealer. Follow up with your glossy lipstick of choice and you'll instantly be wearing a matte version of the same lip color.
3. Rock a "Looks Good Anywhere" Navy Blue Cat Eye.
Draw on a navy blue cat eye starting from the middle of your lids. Lightly line your lower lashes with a dark brown eyeliner and then highlight at the inner corners of your eyes. Wear one coat of mascara on your upper lashes and keep your brows, cheeks and lips in classic hues.
4. Match Your Foundation to Your Neck.
Here's a golden beauty rule found floating around on IG. You really should match your foundation color to the colors in your neck instead of the ones found in your cheeks. You know the awkward look of having one color on the face and an entirely different one on the neck? Don't let that be you!
Pro Tip: For the spring, also reach for less heavy foundations and powders just as you would do for your facial and body moisturizers.
5. Apply Concealer Just Below the Eyes.
There's a longtime, widespread myth that your concealer should be placed all over the half moon area beneath your eyes. Apply a thin, semi-circle layer below your eyes or do an inverted triangle for a face brightening effect.
6. Use these Eye Shadow Color Tricks to Change the Effect of Your Eye Structure.
Protruding Eyes: Minimize the effect of protruding eyes with a light, shimmery eyeshadow on the lids and a darker eyeshadow at the creases. The combination of the two different eye colors gives your eyes the illusion of more dimension.
Downturned Eyes: Make your eyes seem less downturned (and thus more awake) when you wear lighter eyeshadow colors from the inner eyes to the outer two-thirds of your eyes. Also be sure to highlight at the outer edges of your makeup to give your eyes a lift. Follow with mascara on the upper lashes for the outer two thirds of your eyes.
Upturned Eyes: Give your eyes less of an upturned effect by wearing dark eyeshadow on the outer lower corners of your eyes. A smokey, smudged eye can offer a similar balancing effect too.
Small Eyes: Give your eyes an impactful boost by sticking to light and medium eyeshadow hues to really open up your eye area and to create the illusion of bigger eyes.
7. Contour Your Eyes.
Almond Eyes: Cover your entire lids in a matte brown eyeshadow and then apply a darker eyeshadow in your outer crease.
Round Eyes: Contour round eyes with dark eyeshadow hues at the center of your eyes and lighter hues highlighting at the corners.
Hooded Eyes: Contour hooded eyes easily when you apply dark, matte eyeshadow all over your lids. Always be sure to apply a primer first. The natural structure of your eyes makes them more prone to smudges.
8. Refresh Your Face with Light Eyeliner.
Swipe on white or nude eyeliner on your lower lash line to look more awake and refreshed. To highlight your natural beauty even further, work a brown eyeshadow below the liner.
9. Stop Your Eyes from Watering During a Lash Session.
Have you ever had your eyes start to water in the middle of a lash gluing session? Next time breathe through your nose as you apply!
10. Apply False Eyelashes with Ease.
Apply glue to one strip of false lashes, lightly blow on it and then fan it a little in the air so it can become slightly dry. Now apply it to your lash line. It should be much easier to apply and pose less of a threat of making a gluey mess.
11. Layer Your Lip Products for a Fabulous Look.
 Make your lips appear fuller and more hydrated by applying lip balm to exfoliated and smooth lips. Follow the lip balm application with foundation followed by your favorite lipstick.
12. Amplify Your Eyeshadow Pigments.
Slightly dampen your eyeshadow brush so your eyeshadow will swipe on with a much more intense and impactful pigment on your lids. Go one step further and merge it with Spring 2017 beauty trends like metallic makeup and graphic eyes.