The Ultimate Guide to Covering Your Under-Eye Circles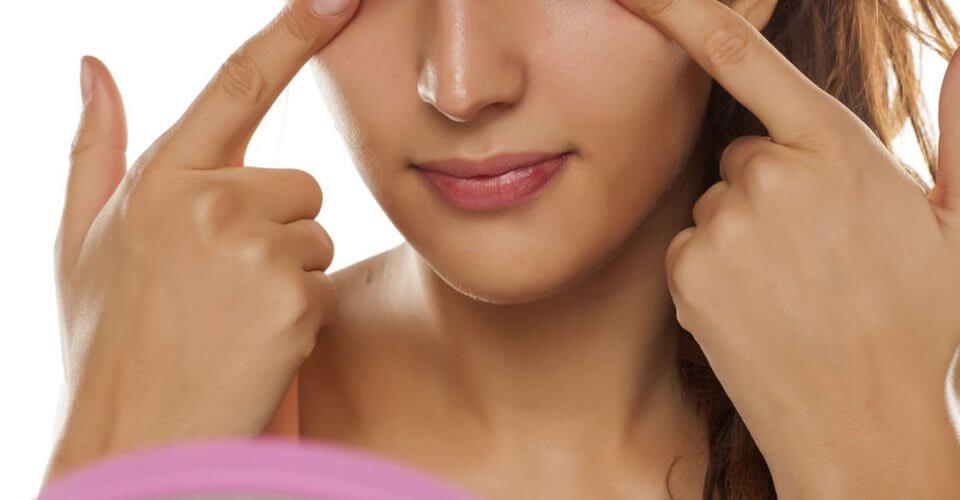 Raccoon eyes can be such a drag… refer to this, your ultimate guide to covering under-eye circles to bail you out in just a few minutes' time.
And remember, no matter how much makeup you wear, it's a simple fact of reality that the better your skin looks beneath your makeup, the prettier your made up face will be. Use these tips and tricks for one-upping your under-eye circles but also take out the time to find out why they're appearing in the first place so you can eventually cure them right from the source. Some common culprits include your diet, not getting enough sleep (or getting too much of it) and symptoms of specific types of food or environmental allergies.
1. Begin By De-Puffing Your Eyes.
What's the point of banishing under-eye circles if you didn't do anything to eliminate the puffiness of your eyes? Not much! Do a thorough job by starting with the basics. Use your favorite eye mask to constrict the blood vessels of your eyes, effectively doing away with under-eye puff. If you don't have one handy, soak two round cotton pads in a caffeinated tea and place them on closed eyelids. The caffeine will have the same blood vessel constricting effect and the tea should battle the inflammation.
Follow up the de-puffing process with a quality under-eye cream that dries fast and won't make your concealer streak or smudge.
2. Apply a Good Foundation
Give your under-eye area coverage with foundation before moving on to concealer. Contrary to popular belief, this is a much better system as it lets you apply less concealer while offering an added boost of coverage to minimize flaws like circles and darkness.
3. Choose the Right Under-Eye Concealer
Go for a creamy concealer product as the added moisture will really help to improve the overall appearance of this super sensitive area of your skin. Opt for a lightweight concealer over a thicker version. You may be tempted to go for the thickest kind to physically hide your under-eye circles but it usually only ends up backfiring by making the concealer coverage too obvious which will take over everyone's focus.
As for which color of concealer to choose, you have a few options. One of the most highly-recommended hues is a pink one including tones of peach or salmon. These work great on everyone and they're able to cancel out those dark blue colors found in your under-eye circles since they're on opposite sides of the color wheel (red, orange and yellow vs. blue, green and purple). They can also help to balance the colors beneath your eyes so that they blend well with the rest of your complexion.
4. Apply Concealer Like a Pro
Sometimes you've been doing the same thing for years, only to learn it was wrong the whole time! Something to add to the list- applying concealer as little half moon shapes framing the eyes. This is the most common way we see people apply concealer and yet it's really ineffective at what it aims to do – banish darkness beneath your eyes.
Apply your concealer like a professional instead by creating an inverted triangle with concealer, one below each eye. This trick works with reflections of light to minimize the appearance of under-eye circles while its shape that literally points away from your eyes takes the attention away from the under-eye area.
Lightly pat all over to blend well. If you rub in the concealer, you'll just undo your attempt at coverage and reveal your under-eye circles as if you hadn't applied any makeup.
5. Brighten Eyes with a Highlighter
Apply a highlighter as a series of a few dots beneath your eyes. Pat lightly for gentle and accurate blending. This will help to minimize under-eye darkness and brighten up your entire eye area and face.
6. Look More Awake.
Appearing brighter, more alert and more refreshed will definitely distract from any traces of under-eye circles. A nude eyeliner applied to your bottom lashes will do the trick!
7. Set the Look with Translucent Powder.
Finally, lightly dust translucent powder all over your under-eye area to set the concealer and keep it in place. This will also make it seamlessly blend in with the rest of your face.
You did it! You've banished those dreaded under-eye circles for today!
As for the future, do some investigating to try to avoid recurring under-eye woes and definitely consider making some lifestyle changes. Some easy fixes that can make a considerable difference (and can improve your overall health too) include drinking enough water, taking in a healthy diet, getting ample amounts of quality sleep and avoiding allergy-triggering stressors such as foods intolerances and environmental factors like pet dander and pollen.