9 Spring Break Beauty Essentials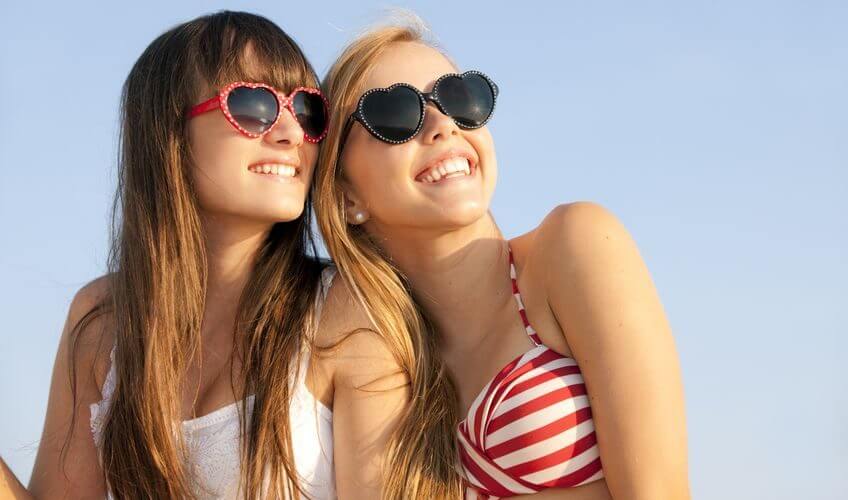 You've booked all of your travel plans and you know exactly what you'll wear, but do you know which Spring Break beauty essentials to pack? Since you're strapped for time with all of those last-minute details, we've made it really simple for you. Pack your makeup bag with this beauty arsenal to recreate some of the hottest looks of the season and to present your best Spring Break beauty yet!
1. Adhesive Eye Makeup Stencils
…because who has the time for the drama of attempting to freehand draw their eye makeup to perfection?
Let eye makeup stencils be your guide for creating quick and professional-looking cat eye makeup, feline flicks and cut crease or smokey eye makeup styles. These disposable eye makeup stencils are designed to be used for one time use only so you can stick them on, paint to perfection and peel and toss once you're done. Minimal clean up and editorial worthy makeup looks? Sounds ideal to us!
2. Party Perfect Eyes That Pop
Take advantage of this Spring/Summer 2017 trend: the colorful, graphic eye. Create the shapes of your preference at the upper lids, then fill them in with richly pigmented hues in colors that can't help but get noticed. Try orange, yellow, cobalt blue – or even a shimmery orange pink.
3. Subtle Yet Sexy Eyes 
Line your lower lashes with a dark black eyeliner. Soften up the look by blending it with an eyeshadow in the color of your choice. Slightly smudge for a sexy and timeless "morning after" effect. Create a cat or kitten eye at the lids and finish with a few coats of mascara and groomed and defined eyebrows.
4. Glitter lipstick
If there were ever a more suitable venue for sporting the currently super hot glitter lip, we'd like to know! Emulate the mesmerizing glitter lips created by celebrity makeup artist Pat McGrath as seen on the high fashion runways with a bright, bold, glitter-filled lipstick. Finish the look with fierce feline eyeliner for a beautiful, Instagram-ready result reminiscent of the beauty looks seen at Fendi.
5. Really Bold Blush 
One of the most impactful beauty trends of the season feels like it was just made for Spring Break! Reach for the boldest, prettiest blush you can find and wear it from your cheeks to your temples. It's difficult to pull off this look anywhere else so have fun with it for your week of parties and events. When you're picking out the color, keep the bright makeup hues of the 80's in mind. That's the style revival that inspired this trend.
Alternatively, you can do the same look with a blush color that's much less intense and a lipstick in a matching but super bright hue!
6. Waterproof Mascara
If your Spring Break plans include fun in the sun by the pool or at the shore, waterproof mascara is definitely a no-brainer! For well-defined lashes all day with a no-smudge, lengthening mascara enriched with ingredients that will condition your lashes while making them look gorgeous – such as vitamin D, emollients and humectants.
Be sure to pack an effective eye makeup remover too.
7. Metallic Eye Makeup 
Metallic eye makeup has been something of a gorgeous dream in the latest runway presentations. What's great is you can wear them as subtle or as dramatic as you'd like. In the spirit of Spring Break, go for metallic eyes that are a little bit more bold than usual.
Paint your lids and your entire eye area (going all the way up to the eyebrows) with a silver shimmery eyeshadow. Thinly line your upper lashes with a jet black gel eyeliner and repeat on your lower lashes, making the upper and lower lines meet at both the inner and outer corners of your eyes.
Next, take a silver gel eyeliner and create a second thin line around your eyes, right outside of the black eyeliner. Finish with subtly shimmer lips and coats of mascara at the upper and lower lashes. You'll be so futuristic fresh.
8. Eye Gloss
Eye gloss is another fun 90's throwback that we just can't get enough of these days. Let it give your Spring Break makeup an extra layer of dimension with a reflective wet look that works as well in natural daylight as under the strobe lights and stars. Finish the look with mascara, well-groomed brows, a little blush and a rich pop of color at the lips.
9. Eye Makeup Remover Wipes
Going to bed with your makeup on sets you up for a beauty horror story the next day. Not only will you look your worst, you'll also have made some serious damage to your skin. Avoid the risk and sleep with a pack of eye makeup remover wipes nearby – you'll thank us later!