8 DIY Beauty Tricks That Will Shock You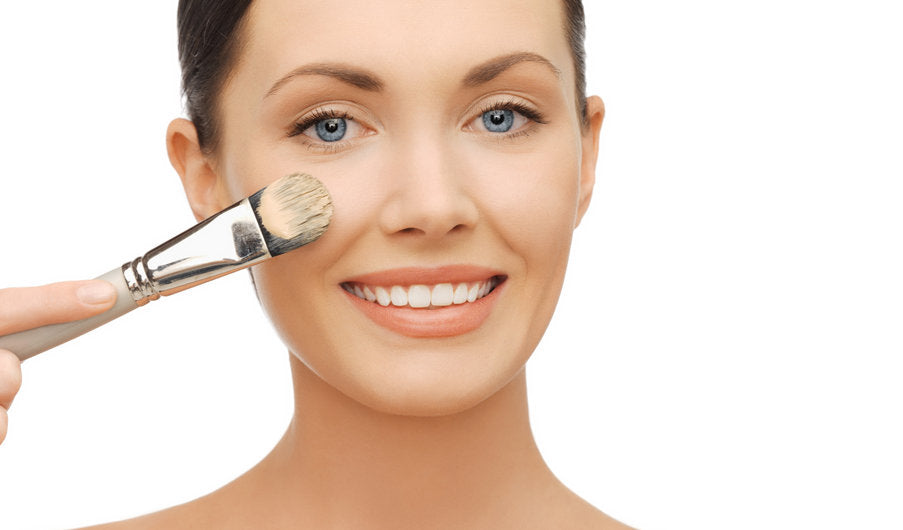 As makeup enthusiasts, we're always looking for new beauty tricks and tips that will make our lives easier. Some you may know and some that may sound down right crazy but as always you have the final say. The ones below are some of the best DIY beauty tricks that we've collected over the years and most can probably be accomplished with products you have right inside your house.
1. Create full lashes with baby powder
Makeup artists have been using this trick for quite a few years to create longer, more fuller looking lashes on their clients. All you need is a Q-tip and some baby powder. To do, first apply one coat of a clear or colored mascara to your lashes. While your mascara is still wet, sprinkle a little powder on a tissue and dip your Q-tip into the baby powder. Make sure to tap off any excess powder before applying to your top lashes. Next apply a second coat of mascara over the baby powder. Use a lash comb to come thru lashes and remove any unwanted clumps and marvel at your gorgeous lashes.
2. Create the perfect lip shape
Do you struggle with lining your lips without going over your lip line? Well if you do we have the perfect hack for you. To create the perfect cupid's bow and outer lip line, simply create an 'X' with lip liner to your cupids bow. Then, apply a line on each side of the corners of your lips. Then, start creating dashes to connect the lines together. Fill in the dashes to create a fully lined lip. By working on small pieces of the lips instead of trying to line all at once, you're guaranteed a better line.
3. Fix greasy hair
Instead of going to the store and paying for dry shampoo to fix your greasy three day old hair, you can make your own at home. All you need is some cornstarch and a few drops of your favorite essential oil to make it smell good (but if you don't have any oils, you can leave them out). If you have dark hair, you may want to add a bit of cocoa to the mixture to make it a darker shade that will better match your hair. To do, empty out a salt shaker and fill with the mixture so you're able to control the amount that goes into your hair. Apply to the roots of your hair and comb through to get rid of any white residue remaining.
4. Create a perfect manicure
We can't be the only ones that have looked at nail art tutorials in complete wonder as to how they achieve such straight lines, right? If you're not one of those who has been gifted with the talent of creating perfect nail art, you can fake it with a rubber band. That's right, a rubber band. To create straight-edge tips for your nails, (like a French manicure) simply wrap the rubber band around your nail and position it to your desired line thickness. Apply polish, take the rubber band off and prepare to be amazed!
Another nail hack that we are obsessing over is the band-aid hack. This hack helps creates the dots that many nail art lovers do using a nail dotting tool. Simply place a band-aid (that has small dotted openings in it) over your nail and apply your polish over the band-aid. Remove the band-aid and play witness to the awesomeness that is perfectly dotted nails. Also, did you know that placing your hands in a glass of ice water after applying polish helps quicken the drying process? Try it!
5. De-intensify it
Have you ever applied a dark eyeshadow to your eyes in the hopes of it resulting like one of the many YouTube Smokey Eye Tutorials you've watched but instead your smokey eye looks more like that of a raccoon? Well not to worry beauties, we've got you covered. To soften the intensity of your eye makeup or smokey eye makeup look, using a fuller or fluffy eyeshadow brush, dip into a nude powder, tapping off any excess before applying to the eye area and blend the color out until you have the desired intensity.
6. DIY bronzer
So, it's wintertime and you aren't getting the Vitamin D that you usually get during the summer months. Well, you don't have to rush out to get a bronzer just yet. Instead, why not try making your own at home with just a few simple items. In a bowl, add 1 TB cinnamon, 1 TSP of cocoa, 1 TSP of nutmeg and 2 TSP's of cornstarch, mix together with either a cooking whisk or a food processor so that all powders are blended well. Using a bronzer or fluffy powder brush sweep over any areas you think need a little warmth and prepare to look sun-kissed and fabulous.
7. Fix makeup disasters quick
We all have, at one point or another, gotten makeup on our clothes while applying it. Ugh. We're here to tell you about a super easy way to get rid of the stain for good. All you have to do is add a bit of shaving cream to the makeup-ridden spot and wipe the cream away with a cloth. It's that simple and easy and keeps you from having to change your clothes.
8. Treat your body without spending a fortune
Go to any beauty store and you will see plenty of body scrubs available in all sizes, scents, and formulas. However, you can make your own luxurious body scrub right at home and all you need is some coconut oil, the zest of your choice of fruit (we like grapefruit or orange) and a bit of sea salt. Once you have all of your ingredients in front of you, mix them together and you've got yourself an awesome and amazing smelling body scrub. You can store your scrub in a mason jar, or even an empty and clean condiment container.