Contouring and highlighting Hype: Does It Really Work?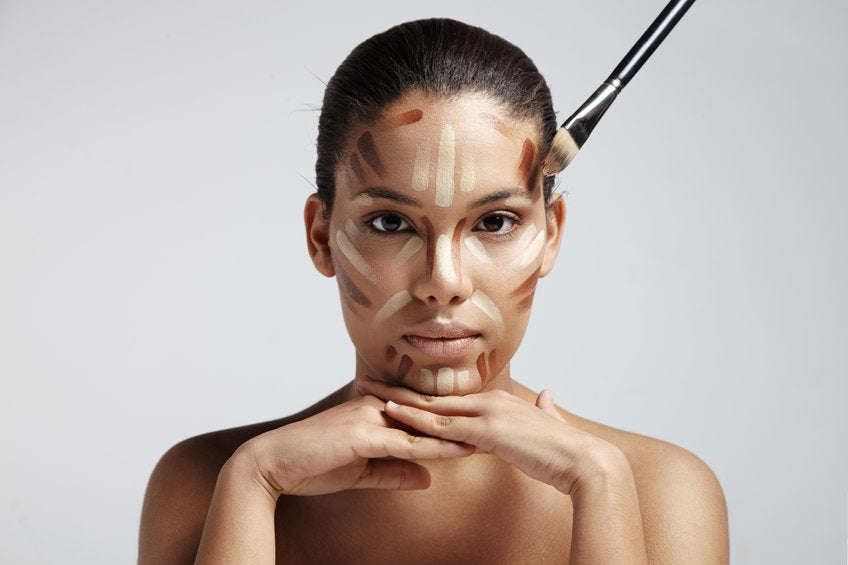 There is a very long list of folks who love the Kardashian's and an even longer one of those who hate her, but despite their feelings everyone seems to know who the Kardashian's are, and many (even the haters) keep up with the style of Kim Kardashian and her famous sisters.
It's no wonder contouring and highlighting has BLOWN up ever since those mapped out selfies of Kim on Instagram. Hate it or love it, contouring and highlighting have taken the makeup world by storm and thanks to the creative minds of the makeup community, we now have different types of contouring techniques like the tape contour, spoon contour, knife contour, strobing, and even the clown contour.
Now, getting to master the art of contouring is particularly easy, but many women tend to do it the WRONG way and if you have that habit of checking out tutorials on Google and trying to replicate those videos and photos you see online you may hit a dead end. As a matter of fact,  differ depending on the shape of the face, not to mention what you are trying to achieve. For instance, you may want to make your forehead contouring and highlighting less prominent, or perhaps you are trying to achieve a prominent jaw line. The secret is just in grasping the basics of light and shadows. In other words, you need to know that light makes things look prominent, while a shadow will make them recede.
Are you lost? Maybe an example will give you a clear illustration of what we are talking about. Say, you have a square face, and you are looking for a less prominent jaw line. In this case, you will contour your jaw line to create the illusion of an oval shape face. If you have a round face and fancy a more prominent jaw line, then you would have to highlight this area instead.  In short, just remember that you contour the areas you want to "hide" and highlight those areas you want to "stand out."
So now that we have that sorted and you have a better idea of how to contour and highlight your own face, it's time to get down to the good stuff or rather the Do's and Don't for achieving a perfect contour and highlight look of your own.  Before we begin we should remember these three easy rules for creating:

1. Stick To Your Bone Structure
In other words, if you are contouring your nose then you should start from your eyebrows and not just at the bridge of your nose.
2. Go for Contour Powders with grey Undertones
Contouring with powders has got to be easiest and the fastest way to contour. That is why you should refrain from bronzers and other contour powders that have red or orange undertones. Unfortunately, most contour powder undertones are designed to have a red undertone meaning that you will have to shop carefully and make sure to test all colors to ensure you select the best ones. Also, the same rules apply if your contouring with a cream.
3. Make Sure You Blend Everything
The real magic with correctly contouring and highlighting is in blending everything seamlessly, After all, the idea is to trick the eye or let's just say you wouldn't want a situation where everyone can see where the contour ends and where the highlighter begins. To avoid this you should consider using a small domed or flat brush as seen here in this photo below to prevent and create a flawless look.
To contour your cheekbones start by feeling for the hollow part under your cheekbones with your fingers. This is where you will contour, along that hollow part. Another way to do this is to create an invisible line from the corner of the mouth to the highest point of your ear, and that is where you will contour your cheekbones. Something to keep in mind though when doing this way is to make sure the line fades as it approaches the corner of the mouth. It should not touch.
If you are interested in contouring your jaw line, remember to make sure to blend up and down in the center of your neck and under your ears. This is great for creating the appearance of a longer looking neck.
So now that you have the basics for contouring and highlighting, it's time to have some fun. You can experiment with different products and tools, and create the best look that suits your facial structure. Remember, even the most seasoned makeup artists didn't learn this in one day so don't get frustrated, practice does make perfect 
So, has contouring and highlighting been hyped??  You tell us and don't forget to share your look!