How to Do Winged Eyeliner Perfectly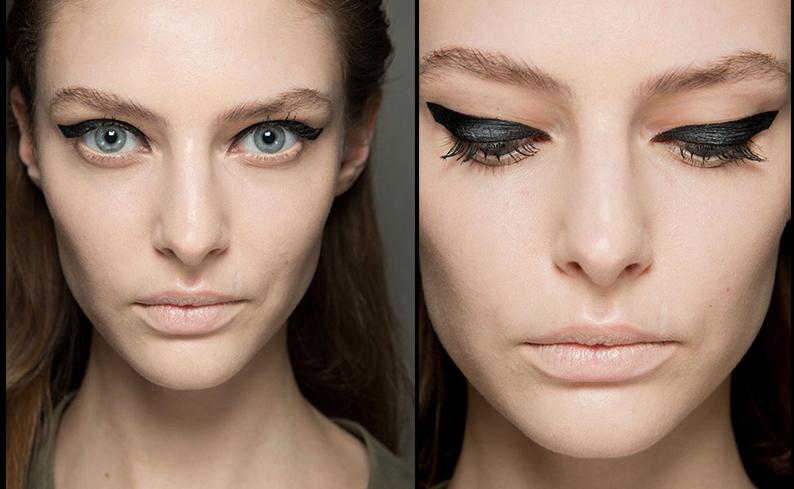 At Giambattista Valli Spring 2014 Couture, the eye makeup look created was a strong Parisian woman with dewy skin, barely there cheek color, pale lips, and a very dramatic, graphic winged eyeliner. We would have to say cat eye makeup and winged eyeliner makeup mission accomplished. Yes it's bold, and yes it is super black, but it is also extremely effective open and closed and with striking eyeliner like this you don't really need much of anything else to make a big beauty statement. So many of the inspirations when creating a popular eye makeup look like a cat eye makeup style on a celebrity for a red carpet event come straight from fashion week since there are so many variations showcased for this type of eye design.
With the eyes closed you can really see what we mean by dramatic with the eyeliner almost covering the entire eyelid. If you're new to how to do winged eyeliner but love this type of eye makeup look and want to give it a go, an easier way to create it on yourself is to use a cat eye makeup stencil. You can create any thickness you desire and by extending your cat eye makeup stencil up and away from the outer eye area you can do a winged eyeliner shape with perfect results.
Once you have your cat eye makeup stencil placed over your eye and eyelid the next step would be to fill in with a powder shadow in a darker shade like a gunmetal, dark brown, or an onyx. When you're happy with the shape you can trace over your eye shadow with a liquid liner, gel liner, or set with an eyeliner/eye shadow sealant to lock in the color and shape. Repeat the same steps above on the other eye. If you're eyelids tend to be on the shinier side start first by applying an eye primer to the area where you will be adding color.
For an eye makeup look as dramatic as this cat eye makeup style seen here leaving out mascara would be a shame. By adding a rich black mascara and depositing more pigment to the base of your lashes, you can actually create the illusion of thicker, more lush lashes which will make your eyes stand out even more. Before adding your mascara give your lashes a curl and then apply two generous coats of black mascara. Make sure to wiggle the wand from the base of lashes all the way out to the tips, concentrating on the outer lashes so they flare out to create a doe-eyed effect.
We love this look so much we often go bold with our own cat eye makeup even in the daytime. If you're on the fence about too much liner on the lids for day you can take the color down as much as you and then go for more drama by extending your wings and thickening your liner for night. You can apply right along the original liner so there's no need to start from scratch.