Eyelash Strips VS. Lash Extensions. Who Wins?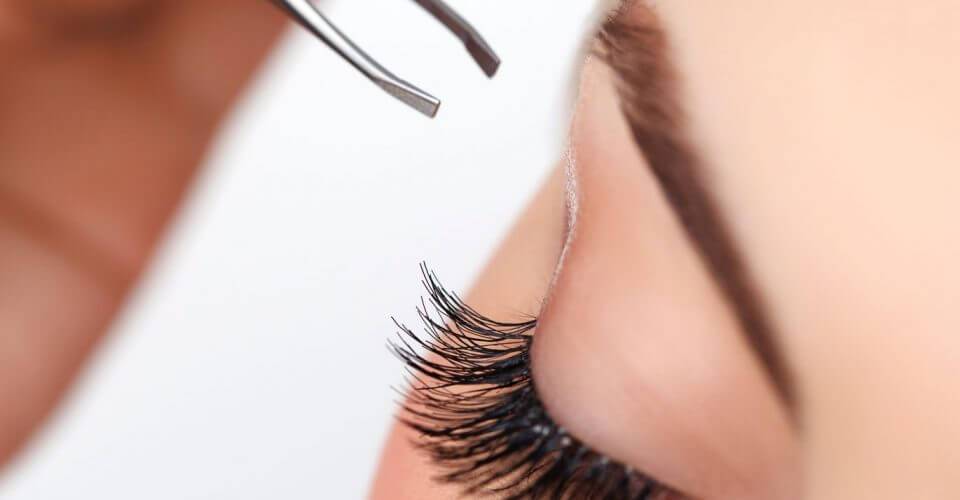 When you see a gorgeously made up face saunter by on the red carpet, it's the eyelashes that typically bring the look together (though you may not realize it). Even women with the most gorgeous eyelashes will often reach out to a set of eyelash strips to channel just a little more glamour. But what's the better beauty route – eyelash strips or lash extensions?
Eyelash Strips
Glue, scissors and lashes that should adhere to your eyes at just the right angle… intimidation is definitely understandable. In reality, eyelash strips aren't as difficult to apply as they seem. You will need some practice but you can definitely get the hang of it after a few tries.
For your first attempt, reserve enough time to try getting them on a few times. Even experienced lash lovers tend to make mistakes when they're strapped for time. You'll need eyelash strips of your choice, eyelash scissors and a high quality, hypoallergenic lash glue that dries on clear (for more room for mistakes). Start with a clean face and always apply lash strips before you work on the rest of your eye makeup. You'll notice some makeup artists putting them on last but leave that to the professionals. 
Try on each lash strip by placing them over your eyes, one by one, for a dry trial run. You'll notice how much needs to be trimmed off the ends and you'll gently shape them to the areas of placement for easier adhesion later on.
This is where the tiny scissors come in. Now you can trim down the length of your lash strips for a custom fit for your eyes. Most models will have to be trimmed down because we all have different eye lengths. Never wear false lashes stretched too far past your eyes or you'll end up scratching the sensitive skin around your eyes and develop irritation. 
Next, apply a thin stripe of glue along the entire length of the first strip. Apply too much and you'll make a sticky mess of your lashes and lids, too little and they'll fall right off. Or, worse, once you've left the house. We like to carry the little lash glue bottle with us for any emergency needs that may arise.
Remember that lash glue dries really fast. Only apply glue to the strip you're currently working on and dive into action once the glue has been applied. Sometimes you'll apply the lashes and find you don't like the style. Remove them before they've dried to make it easier to apply a different set. Clear away any remaining lash glue and repeat the process for the new set. Eyelash strips should be applied to the actual lash line. Finish by curling your lashes and swiping on mascara so you can beautifully merge your real lashes with the falsies.
The Look
There are endless styles to choose from featuring a variety of lash styles, colors, different layers of thickness and different materials. You'll discover really out there costume party styles and more discreet designs that can be worn anywhere and at any time.
Yes, eyelash strips even work beautifully for those who love more subtle looks. How dramatic or noticeable the lashes will be just depends on the style of the strips you choose. There are a lot of women who wear false eyelashes pretty regularly and no one is the wiser. They look extra stunning and most people can't figure out why. For them, that's the point – makeup goal achieved!
Lash Extensions
Learn how to apply eyelash strips. You can do it! When it comes to lash extensions and eyelash strips, strips are the clear winner. Sure the convenience of waking up for weeks with really gorgeous lashes is definitely an allure but it comes at too much of a risk.
Lash extensions are immersed in lots of controversy because although there are a lot of really talented and professional specialists working on the procedure, you're never 100% safe from something going wrong. These are semi-permanent lashes that can leave you with permanent damage.
It's an expensive and tiresome process that comes with substantial risk. Potential dangers include anything from itchy eyes stemming from allergic reactions to loss of vision. Tear gland obstruction leads to dry eyes, irritation and other woes. The weight of the extra lashes can lead to your natural lashes falling out over time. Sometimes dangerous adhesives are used, including permanent glue or glues formulated with the likes of formaldehyde – not something that should ever go near your eyes.
Who wouldn't want perfectly long, stunningly styled lashes day in and day out? We totally get it. But since it really doesn't require more than a few minutes of your time to really take your lashes to another level, why would you take the gamble?
Here's a quick and easy recipe for editorial-ready eyes. Eyelash strips + a smokey eye applied using an eyeliner stencil = fabulous (and safe) in less than 10 minutes. Sign us up!