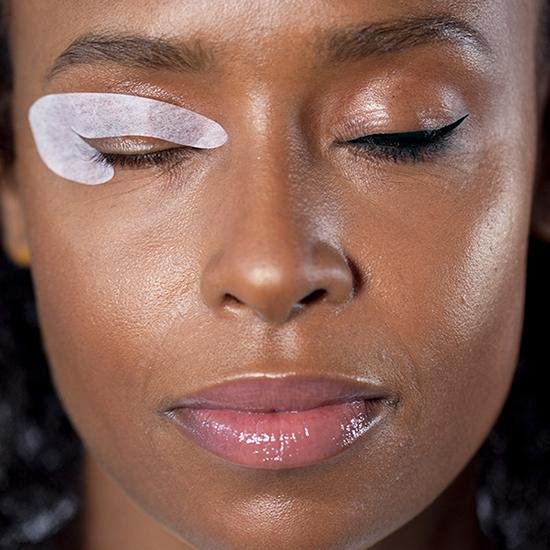 Eyeliner Tips for Perfect Wings & Enhancing Your Eyes!
With so many different looks and trends of eye makeup out there it's no wonder we feel a little overwhelmed trying to find eyeliner tips that best suit our own needs!
Hence our inspiration for putting together a detailed list of our favorite eyeliner tips to help in your search for new eyeliner ideas, tried and true eyeliner eyeliner tricks to incorporate into your daily eye makeup routine.
We're getting down to the nitty gritty of eyeliner with a little help from makeup artist Beth Bender and sharing our best tips to get you inspired too!
Our Favorite Eyeliner Tips - #1 - Wearing Top Liner
If you're just starting to get into wearing eyeliner, the top lash line is about the easiest, and is pretty hard to mess up. Start with a dark brown or black pencil liner in a water resistant formula and begin by lining from the inner corner of eye to the outer edge of your upper lash line.
Some suggest closing the eye and pulling the lid taut to draw your liner but we don't recommend this technique as it can make the liner look uneven once you release your eyelid.
A better way is to apply the liner in short strokes wiggling the pencil in between your lashes as you move along your lid. You can repeat this step again to make the line thicker if you like.
Pro Tip: An eyeliner tip for those afraid of not creating a straight line is to use either a small chiseled brush or an angled eyeliner brush and smudge the liner to make it softer. "This will give the illusion of a straighter line until you get the swing of applying it.," says makeup artist Beth Bender.
Our Favorite Eyeliner Tips - #2 - Freezing Your Eyeliner
Is one of the best eyeliner secrets that helps an old liner feel like new again. 15 minutes prior to doing your eyes place your eyeliner into the freezer. This will allow for the tip to become firm and your eyeliner will go on smoothly for a perfect application.
Our Favorite Eyeliner Tips - #3 - Use an Eyeliner Stencil 
If you need a little help making sure that your cat eyeliner and winged eyeliner are even on both sides try using a cat eye makeup stencil to get the exact shape. "Using this technique is easy and can assist beginners to achieve a perfect cat eye makeup look in seconds," says Bender, (check out the Winged Eyeliner + Cat Eyeliner Stencil) and start slaying some seriously sharp wings! 
Our Favorite Eyeliner Tips - #4 - Applying a colored liner is a good eyeliner tip even if you're a beginner
Eyeliner doesn't always have to be black or brown. Sometimes wearing a navy blue or purple in place of your usual black or brown can actually enhance your eyes even more.
For beginners: To create this bright eyeliner look you'll need a long-wearing pencil liner in a bright color of your choice. Long-wearing liners are available in both twist-up and non-twist pencils.
 Apply the liner to just your lower lash line from the outer corners towards the inner, using short strokes. You can taper the color as you line beyond the center of eye. If you're concerned that just wearing liner underneath will look uneven you can add an eyeshadow to the top lid. Choose a color in the same hue, one or two shades brighter.
Our Favorite Eyeliner Tips - #5 - Accentuate your eyes with bright colors
Once you've gotten the swing of wearing colored eyeliner underneath the eyes the next step is to know which colors to choose for enhancing your eye color that gives them the WOW factor.
For instance a purple, or violet shade will highlight blue eyes beautifully. If you have brown eyes try using a khaki-green, or bronze eyeliner color. For gals with green and hazel eyes, purple, green, brown, bronze and gold hues will all bring out your eye color. For those who have a little more practice one of the more striking eyeliner tips you might like to try is to pair your colored eyeliner, eyeshadow, and mascara all in the same color.
It may sound like too much but it actually makes your eyes really stand out. Try a navy, violet, or an aubergine (eggplant) shade.
Pro Tip: If you can't part with your dark liner you can add a thin black line along your upper lash line before applying mascara.
Our Favorite Eyeliner Tips - #6 - The Cat Eye
Over the years cat eye makeup has evolved into a number of different looks including the winged liner. It's a classic style of eye makeup that extends back thousands of years and even now still manages to be one of the hottest trends in eyeliner.
The easiest way to create a classic cat eye is to use either a liquid liner or gel liner. For those not as comfortable using a liquid, go for the gel and use a taklon liner brush (synthetic) when applying. You'll have more control and better results.
Pro Tip: Instead of applying your color in one swoop try applying small lines across the upper lid. You can go back and fill in any tiny gaps. For the cat eye point begin to turn your eyeliner brush up at about ¾ of the way out.
For the classic look extend the liner no more than 1/4" beyond where your outer lid ends.
Our Favorite Eyeliner Tips - #7 - Dramatic Winged Eyeliner
This particular liner look has become extremely popular and is much different from the classic cat eye. Think of it as the 'naughty cat eyeliner' as you can go as dramatic, thick, and long as you like. Where the classic cat eye makeup look is usually just accentuating the top lid, the winged eyeliner style is the entire eye and of course, the wing.
The most important eyeliner tip to keep in mind when doing a winged liner look is that the two points from both the top eyelid and bottom lid should meet to form the wing.
If one wing isn't enough for you, why not go for another? This look falls under fun eyeliner concepts for doing an even more striking liner by making the contrasting color a bright or bold shade. The second wing should extend just slightly beyond the first one, but should have the same thickness, so that it does not appear uneven.
Pro Eyeliner Tip: Creams and gels work great for creating this style of liner.
Our Favorite Eyeliner Tips - #8 - Be Creative With Your Wings
We have seen many makeup artists and aspiring artists do some of the most outrageous eyeliner looks. Many we have shared since they are so inspiring. Being creative and experimenting can sometimes lead you to a great look you would have never thought of even doing.
That's what this look is all about. Eyeliner that curls all the way up to your brow bone or an eyeliner that lines the lid and then curls around into your crease? We say yes!
Our Favorite Eyeliner Tips - #9 - Drop Eye
Is a look you see a lot of but not a term you hear often when talking about eyeliner unless you come across it in an article. The 'dropped eyeliner look' is actually when you apply liner to half of your bottom lid dropping off the color at the center. It is very striking and beautiful when paired with a dramatic cat eye.
Our Favorite Eyeliner Tips - #10 - White Liner
If you're looking for a way to make your bright eyeliner even more vivid start first by using a white eyeliner to create the shape and then go over with your bright color. Another trick for wearing white eyeliner is to add it to the corners of your eyes. This will make them appear wide and accentuated. 
Our Favorite Eyeliner Tips - #11 - Thin Liner
The thin liner look will never go out of style and is one that most of us turn to regularly. It's quick, effective and just the simple line across the lid can make such a difference. You can do it for day or night, at work, or just running errands.
Our Favorite Eyeliner Tips - #12 - Thick Liner
Aside from the fact that thick liner is in right now, this is a look we happen to love! Yes it's dramatic, yes it's bold, but it also looks so good. A cat eye or winged eyeliner is the perfect style to try this with and another added bonus to the thick liner look is it makes your lashes look that much fuller and thicker.  
Pro Tip: If the darker colors scare you, go for a color, like a bronze, taupe or slate.
Our Favorite Eyeliner Tips - #13 - Smudged Liner
Is just that, liner that once it's been applied is smudged using either a Q-tip, brush or sponge tip applicator to create a sultry, smoldering look. It is especially effective when combined with smokey eyes but can be done when wearing a thicker eyeliner look.
Our Favorite Eyeliner Tips - #14 - Tight Lining
This is one of those eyeliner tips worth trying that you might become addicted to. Tight-lining is a great technique for enhancing your eyes in a very subtle way while at the same time giving the illusion of gorgeous lash beds! Just a very thin line that is applied right down against the lash roots. Beginners:  If you're a novice, begin by stippling the eyeliner in between your lashes to form a continuous line. All you have to do is lift up your upper lid, while looking down into a mirror, and apply your dark pencil in short strokes.
Pro Tip: If you're using an eyeliner pencil make sure it is freshly sharpened before beginning your eyeliner. If your using an eyeliner brush and color to create check out the Angled Eyeliner Brush. The hairs are short, have a nice point, and the ferrule is bent for creating precision liner like this.
Our Favorite Eyeliner Tips - #15 - A great eyeliner tip to instantly brighten your eyes
It takes seconds to do and is especially great on those nights when sleep is not your friend. Using a beige-colored eyeliner pencil apply to your lower inner rim also known as your waterline. "You'll appear awake and bright-eyed and it will make your eyes look larger too" says Bender. To do, using your index finger, gently pull down your lower lid to expose your inner rim. Then with your pencil, gently go over your waterline. 
Our Favorite Eyeliner Tips - #16 - Use a Gel Liner
Mastering liquid liner can definitely give you a dark and dramatic liner look but it takes time to learn and a really steady hand for applying it. So, while your perfecting the liquid, a great alternative is to use a gel liner instead. We actually prefer the gel but that's just us:-) Apply it using an angled liner brush for an easy and smooth application.
Our Favorite Eyeliner Tips - #17 - Set Your Liner With a Shadow
You've just done your eyeliner and it's perfect.Keep it that way by setting it with an eyeshadow in the same color and preventing potential smudging throughout the day. To do grab an angled liner brush, dip it in your eyeshadow and press it along the eyelid to cover the liner with a layer of shadow.
Our Favorite Eyeliner Tips - #18 - Concealer, not just for under eyes
Give your cat eye makeup a more crisp and finished look by going over any smudged edges with a concealer.To do, simply outline the areas that need covering with your concealer, blend with a concealer brush and set with a translucent powder.
Our Favorite Eyeliner Tips - #19 - Take Your Time
Rushing when putting on eyeliner or eye makeup can often result in too much liner, uneven lines, and smearing. Instead take your time and apply your eyeliner with gentle small strokes or dabs. Applying in one big swoop could lead to the dreaded eyeliner tragedy and having to start all over.