How to Do a Daytime Cat Eye Makeup Look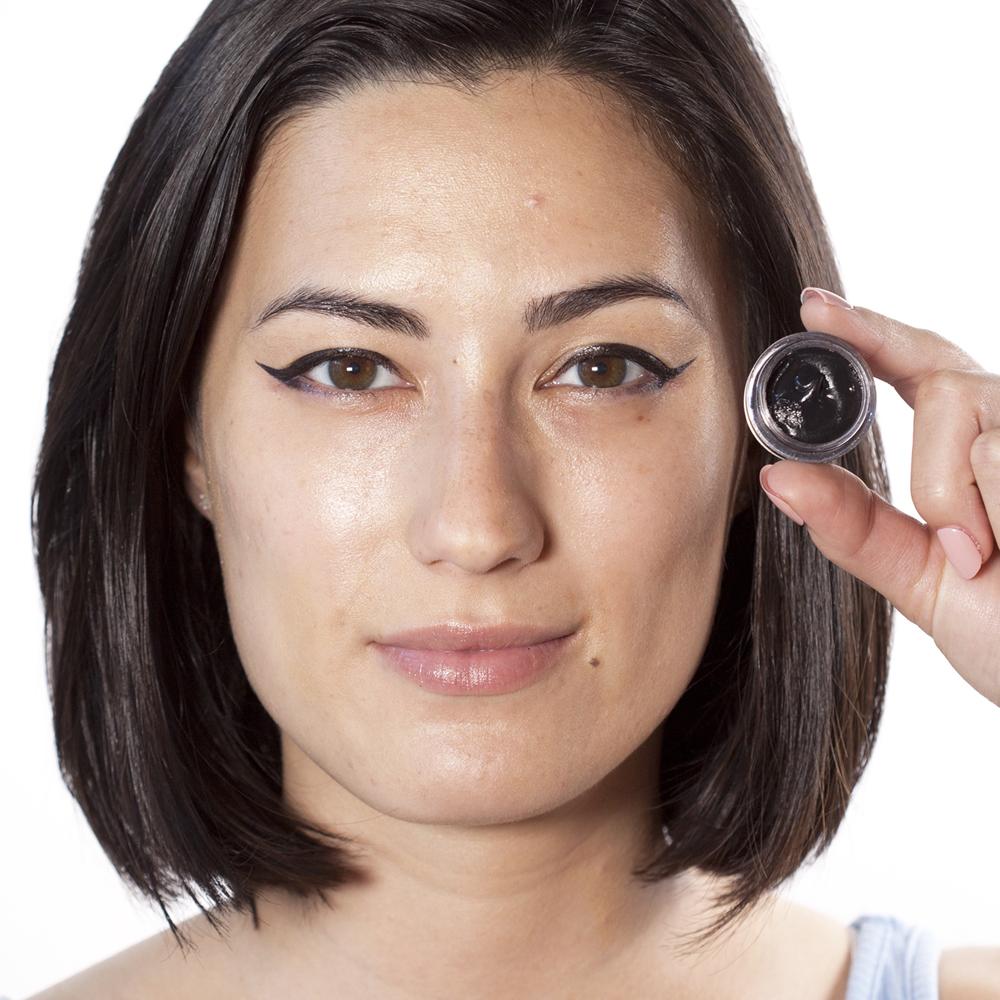 With a history that reaches back as early as 10,000 BC it's no surprise that the Cat Eye Makeup look continues to grow in popularity. With so many variations from thickness and length, to color and formulas it's an ideal style of eye makeup that can be worn day or night, and looks great on everyone no matter the eye shape or size.
Armed with the right makeup tools and products is always a plus for achieving beautiful eyeliner and if done right can even improve and enhance your natural eye shape, such as eyes that are turned down at the outer corners. It can also act as the perfect distraction for puffy eyes. "You'll want to keep the lash line underneath the eyes free of eyeliner to keep the focus on your upper eyelid and cat eyeliner" says Beth Bender Beauty founder and Makeup Artist, Beth Bender.
Below are a few steps to mastering your daytime cat eye makeup.
Many cat eyeliner looks are created using a liquid liner, however a lot of us are limited in our time and a liquid liner isn't always the best choice if your rushing. A creamy water-resistant eyeliner pencil will work just as well but if you have to have your liquid, consider creating the liner with a pencil first in the same color or slightly lighter to get the cat eye shape just right and then going over with your liquid liner. Your success will also depend on the product itself so make sure to choose a pencil, gel or liquid that glides easily along your eyelid and lash line. The fresher the product the better the cat eye results.
"Even the most seasoned makeup artists will tell you that concentration is key when applying liner, especially liquid, and especially cat eyeliner," says Bender. "I have many clients whose staple eye makeup look is a cat eye and for that reason I make sure to always have a backup just in case I need to do it quickly. When I'm really rushed I'll use one of my cat eye stencils first and then fill in the cat eye with a liquid or gel liner once I've created the shape. Using a stencil first is a great way to get the perfect shape in seconds with a lot less clean up. For those who are more confident in their freehand eye makeup skills, Bender recommends using an angled or pointed eyeliner brush and gel eyeliner.
The Original Cat Eyeliner Stencil
In order for a successful application the first thing you need to do is look at your eye shape. Following the natural curve of your eyes begin lining along the eyelid and lash line. For eyes that are turned down instead of following the curve of the top lid, imagine how the bottom lid would extend upwards and draw that line.  The focus should be at the outer corners.
Bender suggests starting your eyeliner with your brush or pencil placed at the inner corner of the eye and gently moving it across the lid. If you're in the process of polishing your eyeliner techniques you can also make shorter strokes along the lid and then go back over for a solid line. Begin to slightly thicken your liner as you get to the center and work it out to the end of eyes.

Next create the cat eye wing or point by working your liner from the opposite direction with the end of your brush/pencil pointing towards your temple. Draw the liner down so that it meets the end of the eyelid. You can go back and add another layer of liner to thicken your cat eye or leave as is.
If you usually do your eyeliner with your eyes open, looking straight into the mirror will be an advantage to getting both cat eyes to look even. Adding more eyeliner is a lot easier than having to remove it so take your time when applying and if you do need to clean up, a Q-tip dipped in eye cream or makeup remover will get rid of any unwanted color.
Once you've mastered your cat eyes you may want to play them up even more with a few faux lashes. You can also save this step for nighttime. Bender suggests adding a few lash clusters to enhance the winged liner look even more. Apply them along your outer lash line starting at about ¾ of the way out. "Just adding two clusters to each eye is surprisingly subtle and will turn them up even more," she says.  Finish by applying your mascara to the lashes focusing on the outer eye area. This will also help to blend your natural lashes and clusters together for a seamless eye makeup look.