The Top 6 Prettiest Colors for Brown Eyes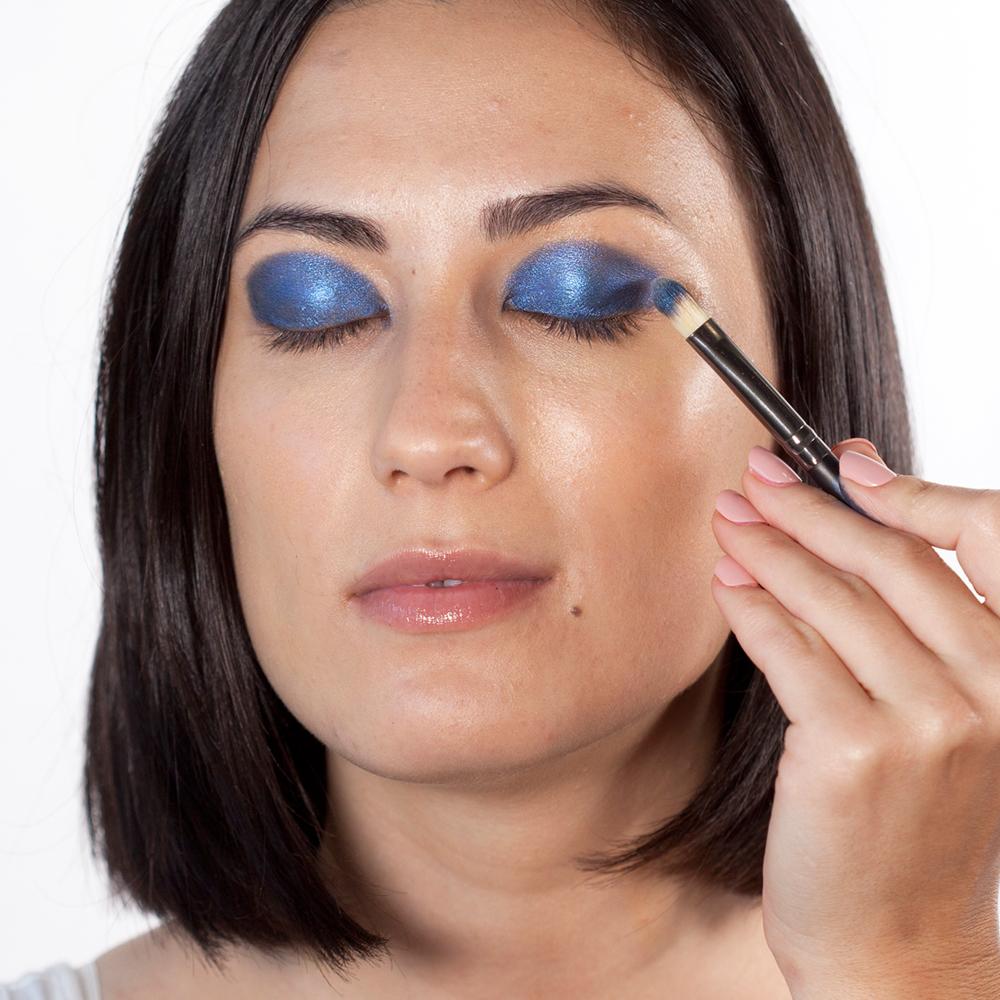 Just because you happen to share the same eye color with half of the world's mighty large population it doesn't mean for one minute that you have to blend, especially when it comes to eye makeup. These six eye makeup colors will make your beautiful brown eyes stand out and seem like the specialist of them all.
1. A Cobalt Shadow
"Brown is a blend of all of the primary colors, so you have lots of options," says makeup artist Beth Bender. She recommends a vibrant blue shadow, like Eye Color in Cobalt Shimmer, for rich, dark brown eyes. "By wearing a rich blue shade like this as an eyeliner or on the entire lid area will instantly make your brown eyes pop. The contrast is just gorgeous!" If you're new to wearing bright colors on the lids start with an eyeliner first and if you like it, then you can gradually move up into the lid by making the liner thicker or going for a smoldering blue smokey eye look.
2. An Aubergine Mascara
Purple shades are an excellent way to enhance brown eyes that have hazel flecks, says Bender: "The eyes already have a variety of tones, so you don't need a dramatic shade to create a striking contrast." We like Ben Nye Mascara in Aubergine because it not only flatters brown irises, but it makes the whites of the eyes look super bright. If you're not ready to go full purple Bender suggests applying a coat of black mascara as you would and then going over just the tips of lashes with the purple color.
3. A Greenish Gold Eye Shadow
This is a color that many gals shy away from but when applied to the eyes it is actually quite beautiful on. "Green tones are available in a variety of matte, shimmer, and metallic shades. All of them will pick up any flecks in brown no matter the finish" says Bender.  If you need some getting use to wearing this green-gold hue, start with a wash of color on the eyelid first. Another option before making a purchase is to stop by a makeup counter and try a shade in this color on your eyes and wear it for the day. See if anyone notices something different, or comments on how beautiful your eyes look. They probably will.
4. A Navy Eye Shadow and Navy Eyeliner
For daytime a deep navy blue is your best bet for an office-appropriate eye makeup look, and if you love a smokey eye for day then the navy will be perfect. The eye makeup seen here is done using a cream shadow which intensifies the look. For something less dramatic opt for a navy blue shadow in a matte or soft shimmer. Another benefit to wearing navy blue is that it animates brown eyes without looking as severe as wearing a black eyeshadow can sometimes do. "It creates a slight but eye-catching contrast," says Bender. We love our Foiled Shadow in "Fatal". You can wear as a wash of color across the eyelids or build for a super intense color payoff.

5. A Gold or Bronze Eye Shadow
Wearing warm metallics make brown eyes sparkle. It's that simple. "Even the slightest hint of gold undertones in your eye color will be highlighted," says Bender. Check out our Foiled Shadow in "Bad Reputation".
 With all of the colors shown and mentioned for brown eyes you have plenty of options and variations in color and texture to choose from and incorporate into your makeup look for day or night.