How to Rock the Blue Eyeshadow Trend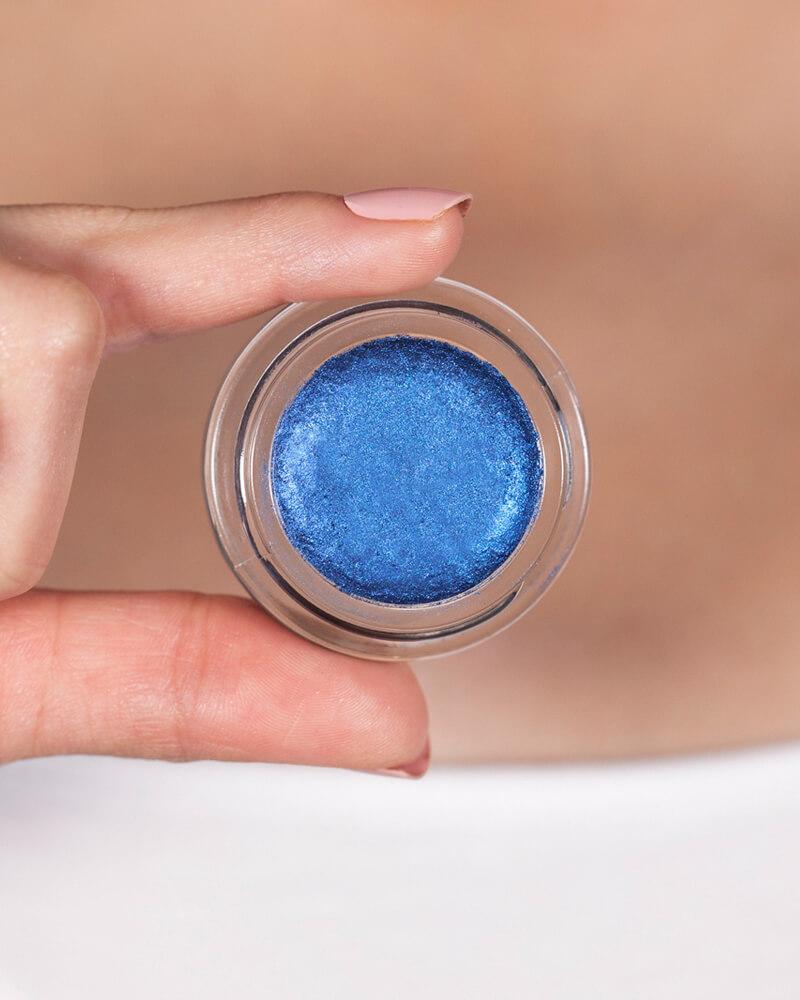 With a huge beauty movement featuring bold, graphic eyeshadow designs and a penchant for all things 80's, it's no wonder blue eyeshadow has really taken off. We saw a few appearances on the runways of 2016 but 2017 is really the year for blue painted eyes with inspiring looks everywhere from Maison Margiela's spring show to Chanel's space-themed presentation for Fall 2017.
However, blue isn't the easiest color to pull off. Use these tips to wear blue hues with confidence and style.
1. Pale Blue Eyes
Line your lower lash line in a color that contrasts with light blue. Next, swipe on a pastel or light blue frosty eyeshadow on your lids as well as a thin swipe below the liner on your lower lash line. Apply mascara and wear very little makeup on the rest of your face.
2. Futuristic Mod
Line your lower lashes with a blue eyeshadow in a fun, bright hue such as turquoise or cobalt. Strobe at the inner corners of your eyes using a silvery white eyeshadow and go for well defined upper and lower lashes for an absolutely current version of a 60's-inspired, metallic mod look.
Strobing is a beautiful touch for a lot of different blue eye makeup looks as it really opens up the eyes and creates a nice transition between the color blue and the colors of your skin.
3. Navy Blue Smokey Eyes
Colorful smokey eyes are great alternatives to darker smokey eyes, which tend to be more suitable for night. Apply eyeshadow primer and then swipe a navy blue eyeshadow all over the lids and below your eyes for your smokey eye base. Line with a dark black liner at the upper and lower lashes. Smudge with the navy blue eyeshadow and blend well. Apply a lighter blue hue at the brow bones and blend well. Highlight at the inner corners of your eyes with a silver eyeshadow to brighten up your overall look and apply a coat or two of mascara. Use a smokey eyeliner stencil for greater accuracy.
4. A Statement Graphic Eye
We recommend using an eyeliner stencil for bold, graphic eyes for exacting lines and professional-looking results. Choose a color that pops – such as royal blue or cobalt – and keep the look ultra modern by pairing barely there makeup with graphic eyes of amazing blues. If you think a graphic shape looks too severe on your eyes, feel free to haphazardly smudge in a few places to give it more of a lived-in, effortless cool feel. Whether you go for perfect or slightly smudged, be sure to start the look with a good primer.
5. The Blue Upside Down Cat
Create an upside down cat eye in blue with an eyeliner stencil for accurate results. Next, trace the liner, swiping blue eyeshadow just below your eyes. Wear an eyeshadow of a soft hue on the lids, tightline at the upper lashes and apply a lengthening mascara or false eyelashes to complete the look. Wear a nude lip to allow the blue to shine as the star of the show.
6. The Cerulean Cat
Create a dramatic blue cat eye extending well past the outer corners of your eyes using deep blue eyeshadow and a deep blue eyeliner to match. Allow the cat eye effect to be appreciated all the way around by lining the lower lashes in the same color, extending the lines to meet with the swipes of liner drawn from your lids out to the corners of your eyes.
7. The Metallic Kitten
Line your lower lashes with a dark black eyeliner. Create a kitten eye (a cat eye with a modified, tinier flick at the end) using a metallic blue eyeliner then go over the dark liner on your lower lashes with a metallic blue eyeshadow in a matching shade. Apply mascara on the top and bottom lashes and you have a pretty, totally on-trend look.
8. The Best Blue for You
If blue eyeshadow still intimidates you, wear a light blue hue on your lids and lightly line your lower lashes. Or, opt for lightly lined lower lashes in an impactful, pigment-rich blue eyeshadow applied with an eyeliner brush. You can make it a really fresh and sunny look if you pair with a red lipstick based in orange hues or a creamy nude lip.
There are too many hues of blue to count. Take the time to explore what's out there and pick up the colors that work best for you. Remember to consider your complexion, hair color, eye color and even the colors you have in mind for the rest of your face. Blue is one of the toughest eyeshadow colors to pull off, so if you'd like to play it safe, opt for pale or neutral colors on the rest of your face!