The Big No-No's: 7 Makeup Mistakes to Avoid at All Costs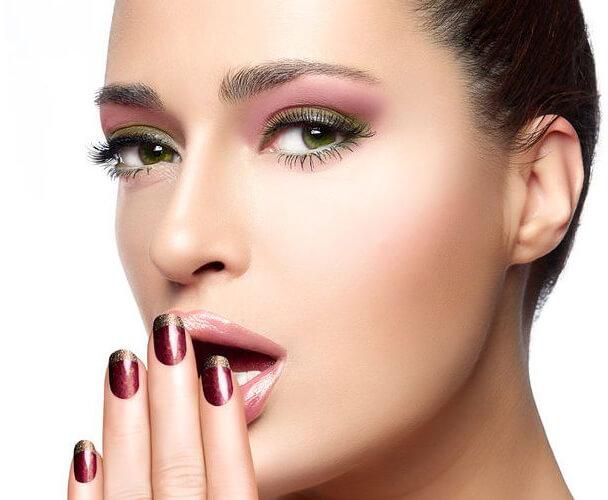 There are a lot of beauty mishaps out there but almost none of them are as noticeable or annoying as these seven makeup mistakes. Some of these just look terrible while others will wreak havoc on your skin.
Here's our list of beauty errors to avoid and the solutions you can employ instead:

1. Wearing a Lipliner That Drastically Contrasts with Your Lipstick
Lipliner has become more popular in recent years (a good thing) so we're also seeing a lot more of this beauty blunder (not so great). How should lipliner be used? Trace your lips with your liner and then scribble over the entire surface of your lips with the lip pencil. Go over the lipliner with a lipstick or lip stain in a matching hue.
No one should be able to notice that you've traced your lips with lipliner from blocks away.
2. Wearing Uneven/Unbalanced Cat or Winged Eyeliner
There are a lot of women who skip eyeliner entirely because of the stress that pops up when you realize you have two totally different swipes of liner on each eye. It can look even more obvious (and awkward) when you're rocking a winged or cat eyeliner look.
Instead of wishing for more time to get it right or even a steadier hand, make life easy and put an eyeliner stencil to use. You literally only need to hold a cat eye stencil up to your eye and then fill in the space with eyeshadow. Trace over the eyeshadow with your favorite gel, pencil or liquid liner and you're off. Want to go hands-free? Use adhesive eye makeup stencils instead!
3. Wearing Your Winter Foundation in the Summer
If you haven't made the switch to summertime makeup yet, get on it today! Sometimes we're so caught up in our routines that we don't notice the striking difference between our current tans and the makeup we use until things start to look really drastic. You may not even notice until you catch a picture of yourself at an event and discover your face and body were worlds away in color!
Reassess all of your face base products to make sure you're rocking the right shade – even if that means needing to switch colors twice during the season. Having mismatched foundation is one of the most embarrassing beauty blunders out there.
4. Not Blending Properly When You Contour Your Face
Contouring can really turn out spectacular but there's no chance that's going to happen if you're not blending in your makeup. It just makes sense- you have to draw so many different weird lines on your face when you contour. If you don't blend it in, you'll look like a streaky blueprint!
Blend with a passion and say no to harsh lines of makeup on your face. 
5. Skipping Primer Before Your Eye Makeup
There probably are a few rare souls who magically have eyelids that don't get oily but for the vast majority of us, primer is a must. Even the best quality eye makeup tends to move around when you add sun, humidity and sweat to the equation.
Prep your lids with a primer and then continue with your eye makeup routine as usual. As a bonus, it will also make your eyeshadow color pop to look a whole lot richer and brighter.
6. Sporting Tarantula Eyes
Leave the tarantula look to our eight-legged friends and do your lashes the justice they deserve! A clean mascara wand can help rid your lashes of clumps and also pay attention to the types of mascaras you're using.
If you love thicker lashes, wait for the first coat to dry and then add a second to minimize the risk for clumps and lumps.
7. Pulling Your Eyes to Do Your Eye Makeup
This beauty no-no may not be apparent to random passers-by and your makeup may look on point afterwards but it's going to catch up with you. The sensitive skin located around our eyes is some of the most fragile skin on our entire bodies. Pulling and tugging will quickly wear down the collagen and you'll be left with devastating effects in the form of premature signs of aging like wrinkles and fine lines.
Since none of us want to take part in the breaking down of our skin, the answer is to employ eye makeup techniques that let us get our liner exactly where we want it to go without the stress. Here's one that we love: look towards the inner corner of your eye as you line the outer corner of your lid and vice versa. This is also a good tip for evenly depositing mascara and working your lashes into the appropriate direction.